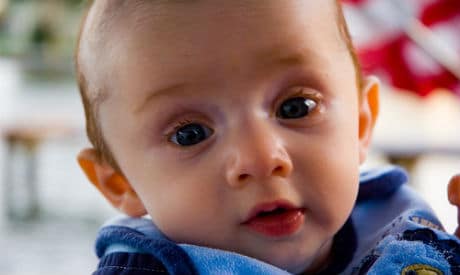 Early detection of autism is important, and there may be a way to detect if a newborn is at risk. Researchers at the Yale School of Medicine found that abnormal placental folds and abnormal cell growths called trophoblast inclusions may be used to identify newborns that are at risk for autism. The researchers examined 117 placentas from infants of families with one or more children with autism. The families were participating in a study called Markers of Autism Risk in Babies-Learning Early Signs. The placentas were compared with 100 control placentas.
The at-risk for autism placentas had as many as 15 trophoblast inclusions, while the control placentas had no more than two trophoblast inclusions. A placenta with four or more trophoblast inclusions "conservatively predicts" that an infant has a 96.7 percent probability of being at risk for autism. The findings were published in the April 25, 2013 online issue of Biological Psychiatry.
Family history is presently the best early marker of autism risk. "Regrettably couples without known genetic susceptibility must rely on identification of early signs or indicators that may not overtly manifest until the child's second or third year of life," said senior author, Harvey Kliman, M.D., research scientist in the Department of Obstetrics, Gynecology & Reproductive Sciences at the Yale School of Medicine
"I hope that diagnosing the risk of developing autism by examining the placenta at birth will become routine, and that the children who are shown to have increased numbers of trophoblast inclusions will have early interventions and an improved quality of life as a result of this test," Kliman added.
About one in 88 children are diagnosed with autism spectrum disorder (ASD), according to Center for Disease Control's (CDC) estimates. The average age of detection is 54 months (4.5 years). Autism is the fastest growing developmental disability with a 1,148 percent growth rate, according to the Autism Society, and the annual cost for care is $60 billion. The costs of lifelong care can be reduced by two-thirds with early diagnosis and intervention.
It is still too early to definitively say that that examining the placenta could be used to test for autism at birth. However, if it proves to be a way to make a definitive diagnosis, this could be a major tool to use for early diagnosis and intervention. The National Professional Development Center on Autism Spectrum Disorders lists the benefits of early diagnosis, which include being able to select the appropriate treatment strategies. The Autism Society states that it "recognizes the importance of intensive early intervention for young children across the autism spectrum," and supports an "individualized approach" to helping children diagnosed with autism. In other words, the sooner a child is diagnosed, the sooner an individualized plan for intervention can be created and implemented.
Photo Credit: soupboy