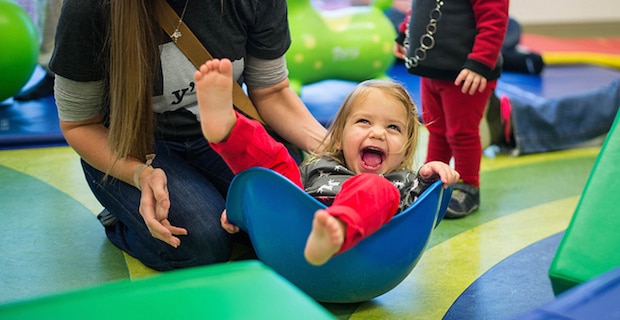 In a time when external factors make it more and more difficult to raise healthy children, it is important to recognize the environmental and nutritional aspects associated with childhood obesity. The common explanation of "He's just big-boned" can only rationalize a child's unhealthy weight so much. At some point parents need to look beyond genetics.
With mounting studies finding that children are reaching unhealthy weights earlier and earlier in life, it is imperative that we examine some of the external factors that influence the development and growth of infants, toddlers and preschoolers. Three important factors that affect children's early development are breastfeeding practices, home environment and activities, and toddler nutrition.
1. Breastfeeding
Nursing an infant is the most effective way a mother can provide nourishment-and the most complete form of infant nutrition. Breast milk has the right amount of fat, sugar, water and protein that infants need for proper growth and development. Recent studies have shown that antibodies found in breast milk help to protect infants from viruses and bacteria, and these infants are less likely to develop ear infections, diarrhea and respiratory illnesses. It has also been shown that breastfed infants tend to gain less unnecessary weight.
Other studies have found that breastfeeding for longer than six months may result in children being less overweight later in life. Varied studies found reduced risks of being overweight and obese depending on children's socioeconomic status, birth weight, sex and length of time they were breastfed.
Read more about why breastfeeding is the key to a healthy mother and child
2. Home Environment and Activities
The environment in which a child is raised has an enormous impact on a healthy childhood and adolescent weight. Family environments are key to the development of early childhood activity preferences, food intake patterns and eating habits. These factors, along with parental eating behavior can directly affect children's developing weight status. However, the strongest predictor of overweight and obese children is the mother's weight. Children of overweight mothers are three times as likely to be overweight; children of obese mothers are four times as likely to be obese.
Taking into account the myriad of environmental factors that influence children's weight, it is important that parents actively provide their children with positive examples through their own actions. Children are more likely to form good dietary habits if their parents display healthy eating practices such as:
Eating breakfast everyday
Eating small portions of food several times per day
Not consuming food that contains excessive fat or simple sugars
Factors that are not related to food but rather to physical activity and behavior can also be directly associated with overweight and obesity risk factors. Children who use electronic games and television as primary forms of entertainment have a significantly higher risk of becoming obese. It has also been shown that children from obese and overweight families have a higher preference for sedentary activities and pastimes.
3. Toddler Nutrition
As a whole, children today are overfed and undernourished. Children's normal and expected physical growth requires adequate nutrients, including micronutrients, vitamins and trace elements. Yet many children do not obtain adequate amounts of calcium, potassium, fiber, magnesium and vitamins A, C and E. Larger portion sizes of less-nutritious foods are all too commonplace, thanks to the hearty abundance of junk food that is directly marketed to kids.
Making a smooth transition from breast milk and formula to small meals can either make or break a child's future eating patterns. Toddlerhood is especially important for laying the foundation for a healthy childhood. This age is a key development period of tissue and organs, as well as psychological and intellectual development. From 12 to 24 months, toddlers gain an average of 3 to 5 pounds and grow an average of 3 to 5 inches.
Sweetened beverages, such as added-sugar juice and boxed drinks and sodas are high in sugar, high in calories and low in nutrients. Recent studies have found a link between overweight preschoolers and their consumption of such "sweet drinks." Studies have also determined that added-sugar beverages and, to a lesser extent, 100% juice decrease diet quality of young children. On average, American preschoolers get about 14 to 17 teaspoons of added sugar every day, mostly from fruit-flavored drinks, high-fat desserts and cola-type soft drinks.
Read more about strategies for raising sugar-free kids
By weighing current research, practical guidelines and realistic goals,
parents can take early steps to raise healthy and fit children.
Image: Donnie Ray Jones