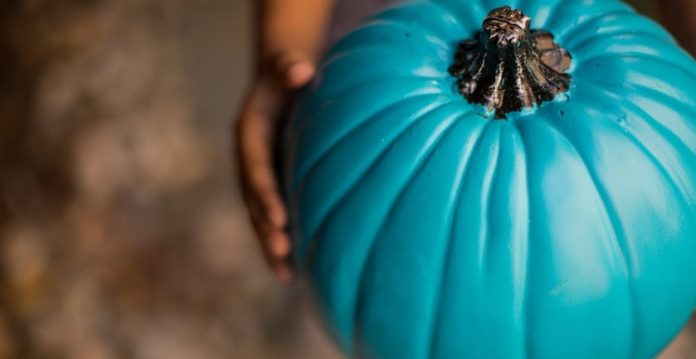 Halloween can be a stressful time for parents with food allergies-and a sad time for kids who feel left out. That's why Food Allergy Research and Education (FARE) started the Teal Pumpkin Project in 2014: so everyone could have a safe, happy Halloween.
Halloween treats are full of common food allergens, so the project promotes including non-candy Halloween treats to make the holiday as inclusive as possible. To let people know your house is allergy-friendly, you can place a teal pumpkin in your window or on your porch, or print one of the downloadable signs from FARE's website.
According to FARE, 1 in 13 children have a food allergy. "This year in particular, more people are becoming aware of how life-altering a food allergy diagnosis can be, and how difficult it can be to manage this potentially life-threatening medical condition," said Lois A. Witkop, Chief Advancement Officer at FARE. "We hope that everyone who participates in the fun tradition of Halloween will incorporate a teal pumpkin into their celebration, bringing smiles to the faces of kids with food allergies."
Read more about food allergies here
Here are a few ideas for non-candy treats this Halloween:
Glow sticks, bracelets, or necklaces
Temporary tattoos
Pencils, pens, crayons or markers
Bubbles
Halloween erasers or pencil toppers
Bouncy balls
Finger puppets or novelty toys
Spider rings
Vampire fangs
Mini notepads
Playing cards
Bookmarks
Stickers
Stencils
If you choose to give out candy as well, keep it separated from your teal pumpkin treats. Wishing everyone a safe, happy, and Naturally Spooky Halloween!