Plastic Baby Bottles and Bisphenol A
Plastic baby bottles have been in the news recently. Reports claim many of the bottles being sold and used contain a dangerous chemical that can escape from the plastic. Bisphenol A (BPA) is the chemical in question. It is the main ingredient in polycarbonate plastic, a hard plastic used to make everything from water bottles to CDs to toys. Unfortunately, now the price many of us will have to pay for past convenience is with our health because BPA is a hormone disrupter linked to cancers (breast and prostate), obesity, learning disorders, and reproductive problems. Bisphenol A can also cross the placenta during pregnancy and damage a fetus during critical periods of development where it may cause neurobehavioral changes in babies, miscarriages, and birth defects.
Bisphenol A leaches into baby's milk from containers or baby bottles made with BPA, or into any other liquid for that matter. The chemical has permeated our world to a significant degree. Studies, done on Americans by the Center for Disease Control, found that 93 percent of those examined had it in their bodies.
Because of their small size, babies are even more vulnerable to BPA exposure. Not only do they consume more food and drink per pound than adults, they also have a funny habit of putting everything into mouths, which increases the likelihood of contact with the chemical.
Healthier Options:
Use glass baby bottles. Even though the possibility of having to deal with broken glass is real, this option is very appealing to many health conscious moms because it eliminates all risks related to using plastic baby bottles. Some mothers are concerned, even though we've discovered and removed Bisphenol A from specialty bpa free baby bottles, there may still be other chemicals present in these plastics that we aren't aware of yet.
Companies that carry glass baby bottles:
Evenflo
Babylife
Born Free
**Many of these companies also offer plastic coverings to prevent bottle breakage

Companies that produce BPA free baby bottles:
Born Free BPA-free baby bottles

Green To Grow: Bisphenol A-free. Phthalate-free

ThinkBaby: safer products for healthier babies

Adiri: The Adiri Natural Nurser Baby Bottle - 100% BPA Free
Boon: No spill toddler cup, BpA-free ,Phthalate-free PVC-free

For sippy cup options look for:
Klean kanteen
The Safe Sippy™
Foogo by Thermos
Another option is to breastfeed exclusively for as long as possible until your child is old enough to use glass cups.
Today parents need to keep in mind that it's not only what we feed our baby that's important, but also what we use to feed them. In addition, don't forget the toys they put in their mouths!
---
About the Author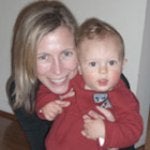 Lilian is a registered holistic nutritionist who has worked in the nutrition and corporate wellness fields for the over a decade. She teaches pediatric nutrition, delivers corporate and public nutrition seminars, runs a weight-loss program, does one-on-one nutritional counseling and writes on nutrition and wellness topics. Since having her son Noa, Lilian has taken a keen interest in educating mom's to be and new parents about proper nutrition during these special periods. Lilian has been featured in Elle Magazine, Flare, Today's Bride and The Weekly Scoop, MSN/Sympatico's Weight Loss Challenge and appeared on City TV.