Why Our Kids Need Omega 3 Fatty Acids and How to Get Them
I'm constantly looking for new ways to feed omega-3 fatty acids to my three children. Since our bodies don't produce omega-3's, we need to get them from food, but it's not always easy to convince our children to take them. I'm lucky; my kids love fish oil. In fact, they beg me for it. They enjoy it straight from the spoon (or bottle in many cases) and even bite the capsules to extract the liquid. But I'm well aware that this may not be commonplace in your household. That's why I'm a big fan of Barlean's Omega Kids Swirl To-Go.
The benefits of omega-3 fatty acids, especially with regards to adults and cardiovascular disease, are numerous. There is a great website called Omega-Research.com that highlights and tracks all the amazing research-based benefits of fish oil. In our new e-book, "Label Lessons: Unjunk Your Kid's Lunchbox," we found that omega-3 fatty acids also have a huge impact on our kids. They improve behavior and learning as well as reducing ADHD symptoms in children, especially in under-performing children. They may even reduce aggressive and impulsive behavior in kids.
Barlean's Omega Kids Swirl To-Go Mango Peach Flavor
Each serving of Barlean's Omega Kids Swirl To-Go contains 200 mg of omega-3 (EPA-DHA). Since omega-3 fatty acids can be difficult to get into your kids' daily diet (especially for picky eaters), this is a great option. We had some family friends over a couple of weeks ago and my girlfriend was telling me that she has a hard time getting her kids to take fish oil. I asked her if she ever tried giving them Barlean's Swirls, and she said, "No." She had never heard of it so I decided to taste test the Swirls on her kids. They loved it. She didn't tell them what she was giving them at first, and when she finally revealed what it was, they were shocked. It was a win-win for both mom and kids.
We know it might sound unconventional to compare Barlean's Omega Kids Swirl To-Go Mango Peach Flavor to Yoplait's Go-Gurt Twisted Strawberry Mango Tango, but we felt it was a good comparison since Barlean's Omega Kids Swirl To-Go is packed in a convenient, portable size but doesn't contain all the unnecessary junky chemical additives that Go-Gurt does.
Look at the nasty chemicals hiding in what should be considered a "healthy" kid's snack food:
Yoplait Go-Gurt Twisted Strawberry Mango Tango
Potential GMOs
Potassium sorbate
Artificial colors
Potential GMOs
The corn starch and sugar are likely sourced from GMO corn and GMO sugar beets.
Potassium Sorbate
Potassium sorbate is a preservative used to keep the fats in Yoplait Go-Gurt from going rancid. In our research, we found that it's been linked to allergic reactions, nausea, DNA damage, and diarrhea.
Artificial Colors
Yoplait Go-Gurt Twisted Strawberry Mango Tango has artificial colors including Red 40, known as Allura Red. It contains benzidene, an animal and human carcinogen. It also contains P-Cresidine, another animal and potentially a human carcinogen. Artificial colors are on our Scary Seven list of ingredients to avoid so any children's snack food that contains them should be avoided at all costs.
Read more about artificial colors
Portable snacks like Barlean's Omega Kids Swirl To-Go are a great option for kids and parents alike because we no longer have to fight with our kids to take their fish oil!
For more information on Barlean's, click here!
Photo Credit: Frédéric de Villamil
---
About the Author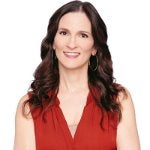 Founder & Chief Passionista at NaturallySavvy.com. See my full bio here.