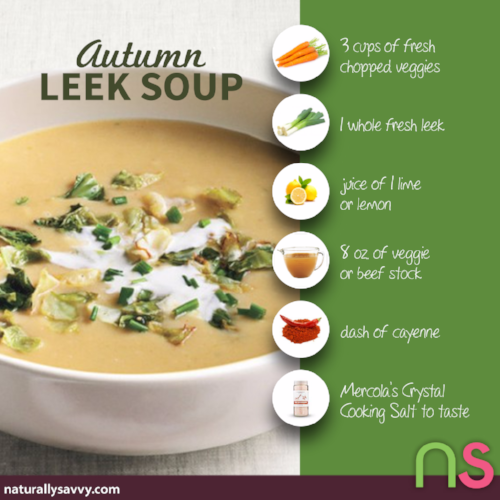 If you're like me, you're looking for something to help you fight off a cold as the weather changes. The savoury, nutritious soup is just what you need. Fresh, organic leeks are in grocery stores right now, carrots have betacarotene and Vitamin A which are great for fighting off a cold or infection. Celery is high in fiber and great for digestion, onions also battle infection, and potatoes are full of surprising benefits.
You can follow along with the whole cooking process in our Facebook Live video below.
Ingredients
3 cups of fresh chopped veggies (carrot, onion, celery, potato, purple radish, etc.)
1 whole fresh leek, chopped
Juice of 1 lime or lemon
8 oz. of veggie or beef stock
2 tbs of coconut nectar
2 tbs of fresh herbs
Dash of cayenne
Mercola's Crystal Cooking Salt to taste
Directions
Place all veggies in a stock pot with the stock and enough water just to cover the veggies,
simmer for 2-3 hours until tender. Use an immersion blender to blend until smooth. Add herbs and let
cool to thicken up. Serve with coconut whipped cream and top with chopped fresh herbs.
If you don't have an immersion blender, you can use a regular blender-just be careful not to fill it too full and watch out for steam.