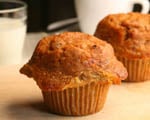 A healthy "to go" breakfast is a simple solution to a busy morning. Prepare a batch of these tasty high fiber muffins to have on hand for a quick and easy start to your day.
Ingredients:
2 cups light organic spelt flour
2 teaspoons ground cinnamon
2 teaspoons baking powder
2/3 cup sucanat
1/2 cup dried mixed fruit or raisins
1 large carrot, finely grated
1 medium zucchini, finely grated
1 tablespoon finely grated orange rind
1?2 cup sunflower oil
3 eggs
Steps/Methods:
Preheat the oven to 350F (180C). Lightly grease a 12 cup muffin pan with oil. Sift the flours and cinnamon into a mixing bowl. Add the sugar and orange rind. Stir in the dried mixed fruit or raisins, and make a well in the centre. In another bowl, beat together the carrot, zucchini, oil and eggs. Pour this mixture into the well in the dry ingredients and stir until almost blended, but with a small amount of dry flour still visible in places. Divide the mixture among the muffin cups, filling them about two-thirds full. Bake for 20-25 minutes or until the muffins are well risen, peaked in the centre and springy to the touch. Transfer the muffins to a wire rack to cool. They are best eaten on the day they are made, but they can be stored in an airtight container for up to 2 days. Alternatively, you can freeze them for up to 3 months.
Additional Tips:
2 cups light organic spelt flour
2 teaspoons ground cinnamon
2 teaspoons baking powder
2/3 cup sucanat
1/2 cup dried mixed fruit or raisins
1 large carrot, finely grated
1 medium zucchini, finely grated
1 tablespoon finely grated orange rind
1?2 cup sunflower oil
3 eggs