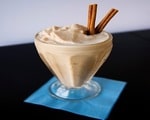 Raw foods do not have to just be salads! This creamy delicious treat is good for you and tastes decadent. Cinnamon is good for blood sugar and warms up the body.
Ingredients:
2 cups coconut milk
2 cups almond milk
2-3 teaspoons ground cinnamon (to taste)
1 cup agave (raw, organic)
½ teaspoon sea salt
Steps/Methods:
Blend all of the ingredients in a high-powered blender. Transfer the mixture to an ice
cream maker and follow the ice cream maker's directions. Or you could also freeze the ice
cream in ice cube trays and when you are craving ice cream, just blend the ice cubes with
a little bit of almond milk!
If it is not thick enough, add regular ice cubes.
Wonderful served with Hot Caramel Apple Topping
Additional Tips:
2 cups coconut milk
2 cups almond milk
2-3 teaspoons ground cinnamon (to taste)
1 cup agave (raw, organic)
½ teaspoon sea salt