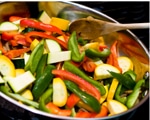 Stir-frys are always quick and usually full of vegetables. This recipe is no exception!
Ingredients:
1 red pepper, sliced diagonally
1 green pepper, sliced diagonally
1 small onion, chopped
2 cloves garlic, chopped
1 carrot, sliced diagonally
1/2 cup sesame seeds
1/2 cup cashews
Sauce:
1 tbsp. unpasteurized honey
1 tbsp. tamari
Bragg's Liquid Aminos (optional) or San-J Tamari sauce, afew squirts
Steps/Methods:
Mix honey, tamari and Bragg's Liquid Amino's in a wok over medium heat.
When sauce is bubbling, add garlic and onions and heat for about 1 minute.
Add remaining vegetables and cashews. Stir-fry for about 4 minutes, before vegetables begin to lose their water. Vegetables should remain crispy.
Serve hot. Sprinkle sesame seeds over each serving.
Additional Tips:
1 red pepper, sliced diagonally
1 green pepper, sliced diagonally
1 small onion, chopped
2 cloves garlic, chopped
1 carrot, sliced diagonally
1/2 cup sesame seeds
1/2 cup cashews
Sauce:
1 tbsp. unpasteurized honey
1 tbsp. tamari
Bragg's Liquid Aminos (optional) or San-J Tamari sauce, afew squirts