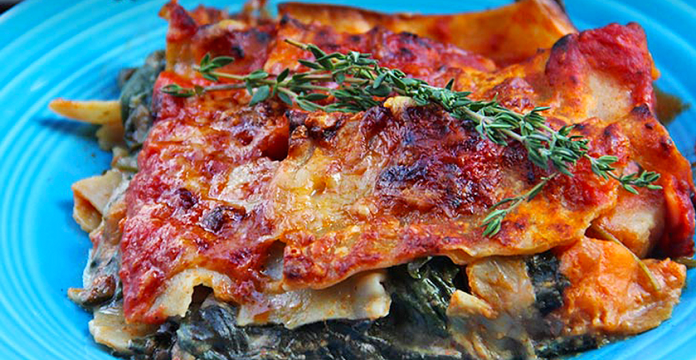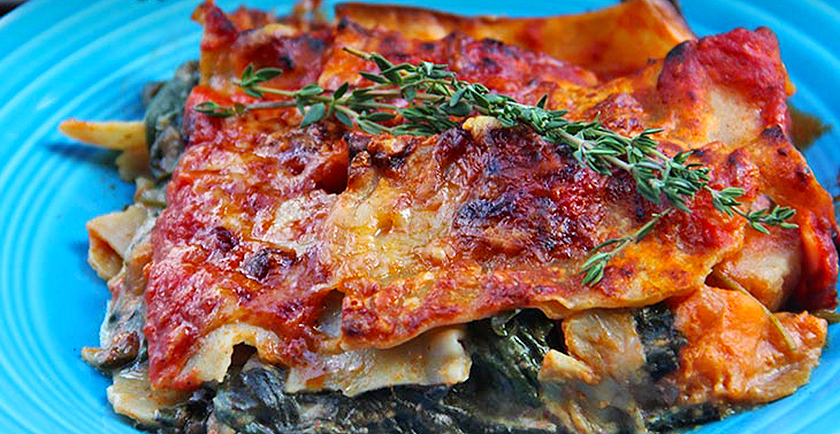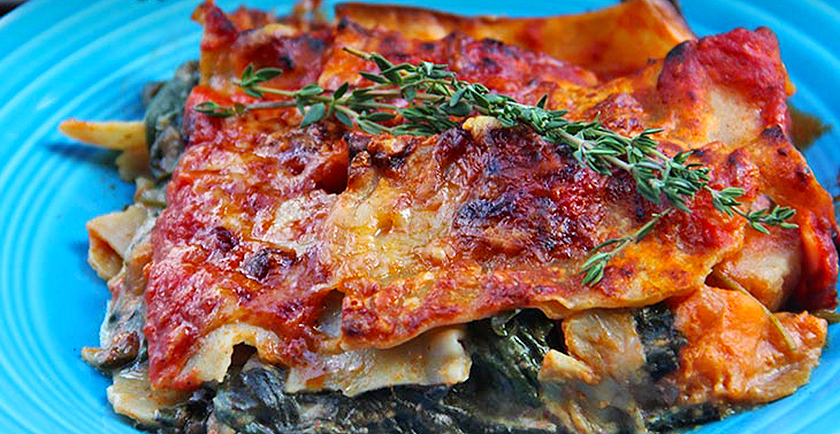 Effortless 10-Veggie Lasagna Recipe
2 layers of wholegrain lasagna stuffed with a big mound of veggies (take a look at the little video clip below!) in a light béchamel sauce, topped with a simple marinara sauce and a sprinkle of Gruyère cheese (remember, a little goes a long way!). I have upgraded the béchamel sauce, Cuisinicity style, of course! It is free of saturated fats (I also give you a dairy-free, soy milk option if you prefer-just as creamy and delicious!) and I make it with wholegrain flour to boot (here is the recipe for the béchamel).
Read more: Eat Leafy Vegetables to Promote Good Digestion
You can make this lasagna exactly as I have it in this recipe, or, pick and choose your favorite vegetables. The constant base should be onions, garlic, carrots, mushrooms and 2 types of leafy greens and lots of it (here I use spinach and kale, but you could use the same amount of chopped escarole and/or arugula, swiss chard, collard greens), along with a simple, store-bought tomato marinara sauce. That leaves you with a choice of 3 more veggies! In this particular recipe, I chose artichokes, zucchini and sweet potato (Oh my-out of this world!) but the options are limitless: So yummy and a great way to add a variety of veggies to your day! This serves "an army" so it makes for great leftovers!
Ingredients
1 package (8 oz) 100% whole wheat lasagna
3 tablespoons organic extra virgin olive oil
1 large onion, diced
4 cloves garlic, diced
3 medium, carrots, sliced
2 pints cremini mushrooms, rinsed and sliced
1/4 teaspoon sea salt
1 large zucchini, sliced with skin on
10 cups fresh baby spinach (loose leaf)
4 cups fresh baby kale (loose leaf)
1 sweet potato, with skin on
1 big jar marinated artichokes, drained
2 cups homemade béchamel sauce (get the recipe here)
32 oz jar marinara sauce (no added sugar)
1/2 cup grated gruyère cheese
fresh thyme
Directions
Preheat the oven to 350 F.
Prep your veggies: Heat oil in a large cast iron dutch oven (I like Le Creuset but any heavy bottom deep pan will do) over high heat, add the garlic and onion and sauté for 4 to 5 minutes.
Add the carrots and mushrooms and continue to cook on high heat, uncovered for 5 to 8 minutes, then add the salt.
Meanwhile, pierce the sweet potato with a fork to make little holes all over and place in the microwave oven for 3 to 4 minutes on high. (Alternatively, you can prepare the sweet potatoes in the oven. This will need some advance preparation. See Editor's Note below for directions on how to do this.) Let cool, dice and set aside.
Add the zucchini, spinach and kale (a little at a time, don't worry it will wilt quickly and you can keep on adding more) and continue to cook, covered, until all the greens have wilted down. Add diced sweet potato, drained artichoke hearts and béchamel sauce, and bring to a simmer for 5 minutes while gently stirring to cast the vegetables.
Assemble the lasagna:1. Cook the whole wheat lasagna noodle per package instructions and drain.
2. Place half of the marinara sauce at the bottom of a large lasagna baking pan.
3. Top the marinara sauce with 4 to 5 cooked noodles.
4. Top with all the veggies in béchamel sauce.
5. Top with remaining 4 noodles.
6. Top with remaining marinara sauce and sprinkle with cheese.
7. Bake in preheated oven for 20 to 25 minutes, until top is bubbling and golden.
8. Enjoy!
Editor's Note: To bake the sweet potatoes in the oven, preheat oven to 425º F. Prick potatoes with a fork and place directly on the oven rack. Place a sheet of foil on the bottom of your oven to catch any drippings. Bake for 45 minutes to 1 hour, depending on the size of your potatoes. Potatoes are done when they are soft all of the way through. These can be prepared in advance to speed up the process of assembling the lasagne.
Recipe, photo and video provided by Catherine Katz of Cuisinicity.com