Grilled Orange Herb Chicken Recipe
Grilled Orange Herb Chicken Recipe Fresh orange juice, olive oil and herbes de Provence seep through these organic chicken breasts grilled to perfection! So simple, so tender and so juicy, it's a cinch to make and it's delicious every time. You can grill it on your BBQ outside in the summer but it's just as easy to grill inside in the cold months. I just use a non-stick grill pan like this one and preheat over a high flame until nice and hot, before proceeding. I just adjust the timing to make sure it's cooked through (an additional 2 minutes per side)–Don't overcook! I love to slice it on a slant and serve over mixed greens or in a panini with fresh sliced avocado, tomato and baby spinach. The options are limitless! Read more: 5 Healthy Grilling Tips for Safe and Delicious Barbecuing
Ingredients
2 organic free range whole chicken breasts (skinless, boneless)
Marinade: Juice of 2 oranges (about 1/2 cup) 2 tablespoons olive oil 1/2 teaspoon dried herbes de Provence 1/2 teaspoon sea salt Fresh ground pepper to taste
Directions Rinse and pat dry the chicken breasts. Place all marinade ingredients in a medium-size bowl and stir.
Add the chicken breasts to the bowl, poke through the chicken with a fork to let the marinade seep in. Stir well to coat. You can keep in the fridge for a couple hours until ready to grill but it is not necessary. If not refrigerating, you can proceed to the next step.
If you want to grill it on your stove top:
Use a non-stick grill pan like this one and preheat over a high flame until nice and hot, before proceeding. Do not add any oil!
Place the marinaded chicken breasts on the grill pan and grill on each side for 6 to 7 minutes each (do not fuss with it, just let it grill on each side and only turn it once!). Discard extra marinade.
If your chicken breast is very thick and it's still not cooked through after the allotted time, you can turn off the stove with the chicken still in the pan, and cover it for an additional 5-8 minutes before slicing. It will keep all the juices and be perfectly tender and cooked through that way!
if you want to use your BBQ grill:
Prepare your gas grill for direct cooking over high heat (450-550º F).
Place the coated chicken breasts on top of the grill (reserve some of the marinade) and close the lid. Set the timer to 5 minutes.
When the timer goes off, turn the chicken over using a long-handled metal spatula, pour the remaining marinade on top and close the lid again. Set the timer for 5 minutes.
When the timer goes off, remove the chicken from the grill and serve.
Recipe and image provided by Catherine Katz at Cuisinicity.com
---
About the Author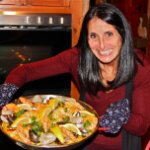 Catherine is the founder of Cuisinicity- Love the Food That Loves You Back, a website where good food and good health come together in a way that is feasible for today's busy families, as it has been for hers (Catherine and her husband, Nutrition expert Dr David L. Katz, have 5 children!). Catherine's recipes have been widely featured in national media, including ABC News, O Magazine, Eating Well, Prevention Magazine, Woman's World, Fitness, Shape, and many others. She is the co-creator of the Nutrition Detectives™ food label literacy program, now in use by thousands of schools all over the world and has collaborated in the production of other health promotion programming, including the Unjunk Yourself® music video program.