Hearty Tomato Soup Recipe (or Stew!) with Brown Rice and Kale
Hearty Tomato Soup Recipe (or Stew!) with Brown Rice and Kale
Serves 4 to 6
Enjoy this simple yet hearty, family-friendly tomato soup recipe. Feel free to modify the recipe to suit your tastes. Add in your favorite veggies, leave out the kale, add some leftover shredded chicken, make it spicier, thinner, or thicker. Experiment. The variations are endless!
Ingredients: 28 oz. can of diced or whole tomatoes 3 to 4 cups or more vegetable or chicken broth 1 cup cooked brown basmati rice 1 tablespoon Barlean's Organic Coconut Oil 1/2 cup chopped carrots 1 small onion, finely chopped 1 heaping tablespoon chili powder 1/2 tablespoon smoked paprika 2 cloves minced garlic 1/2 teaspoon sea salt, pepper to taste Pinch of cayenne, add more or less to desired taste 1 small bunch of chopped kale 1 cup black beans Optional: 1/3 cup parmesan cheese (or 1/3 cup nutritional yeast for a vegan option)
Directions:
Prepare rice if you don't have any leftovers. Alternatively, you can add rice to the broth, but you will need to add extra cooking time plus extra liquid as the rice will absorb some of this. Next, add your tomatoes to a blender or food processor, blend until smooth. Add some liquid or broth if necessary.
In a large heavy-bottomed soup pot, add coconut oil and sauté onion and carrots until soft. Add in the minced garlic and spices and sauté until fragrant. Pour the blended tomato mixture and the rest of the broth into your soup pot with the spices and bring to a boil.
Turn down the heat and let simmer for 15 minutes or so, until onions and carrots are completely cooked through. Add the chopped kale, black beans and rice. Cook for another 15 minutes or so.
For added creaminess stir in parmesan cheese or nutritional yeast. Thin soup out with more broth or water if it is too thick. Season to taste with more salt and pepper or spice. Enjoy!
---
About the Author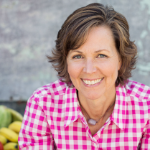 Cathy Russell is a Registered Holistic Nutritionist and Graphic Designer, as well as the Content Manager at NaturallySavvy.com. She blends her background in art and design with her passion for health and healing to bring a creative and balanced approach to nutrition for the whole family. Follow her blog at CathyRussellCreativeNutrition.com