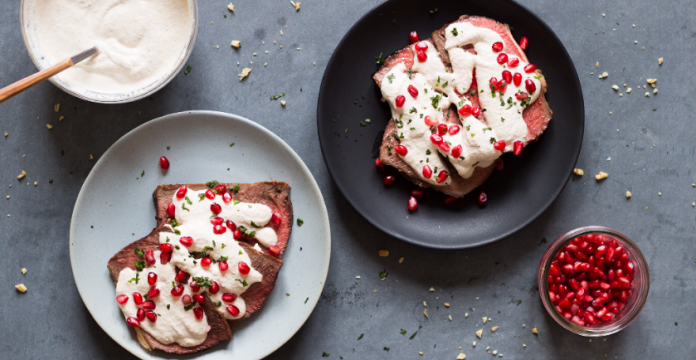 We love this show-stopping holiday dish that isn't turkey and doesn't take all day to make! The walnut sauce puts a festive spin on a traditional dinner, with the added benefit of the nut's brain boosting and disease-fighting nutritional power. Garnish with pomegranate or cranberry for even more holiday cheer.
Ingredients
2.5 lbs sirloin or ribeye roast
1-2 tbsp olive oil
1-1.5 tsp salt
1/2-1 tsp pepper
2 cups shelled walnuts
1/4 cup goat's cheese
1/2 cup milk (plus 1-4 tbsp depending on blender's power)
1 tbsp orange juice
1 tbsp sugar
1/3-1/2 cup pomegranate seeds
1/4 cup freshly chopped parsley
Directions
1. Take the roast out of the fridge a minimum of 45 minutes before putting in the oven to get it closer to room temperature. This part is important!
2. Preheat the oven to 450 F.
3. Place roast in a cast iron skillet (or other oven-proof dish), generously cover the roast with olive oil, salt, and pepper. Use your hands to press the salt into the meat to avoid it just falling off when roasting.
4. Put a meat thermometer about 2 inches deep into the meat and place in the oven for 15 minutes, then reduce heat to 350 F without opening the oven door.
5. Roast at 350 F until the roast's internal temperature reaches either 130 F (rare), 135 F (medium-rare), 140 F (medium), 145-150 F (well done). Time will depend on exact weight of the roast and individual ovens, which is why a meat thermometer is essential for success. Start checking after about 30 minutes.
6. Take roast out of the oven, cover with aluminum foil and a kitchen towel and let rest for 15 minutes.
7. In the meantime, prepare walnut sauce by adding walnuts, goat's cheese, milk, orange juice, and sugar into a high-speed blender or food processor and blend/process until smooth. Depending on the machine's powe,r more milk may be required to get to a creamy consistency.
8. Slice meat against the grain, top with walnut sauce, and sprinkle with pomegranate and freshly chopped parsley.
9. Bonus: add the juices that formed in the roasting pan into the walnut sauce.