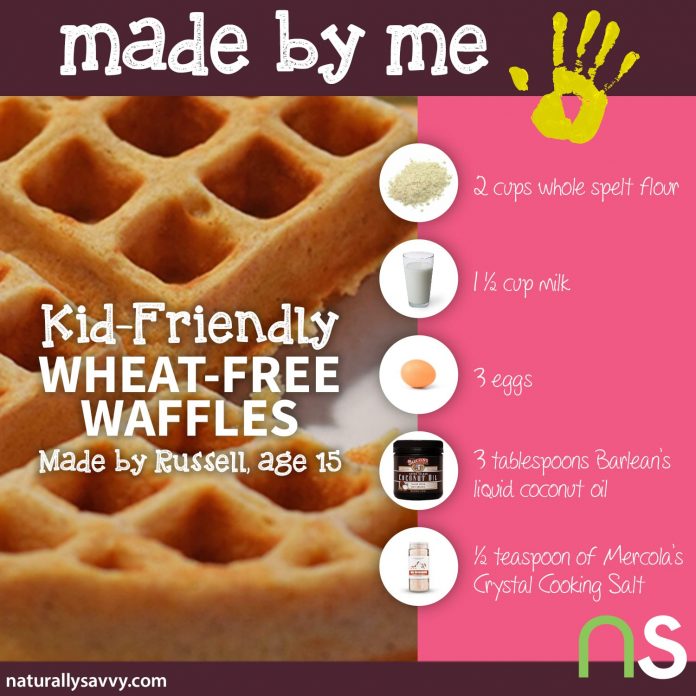 Made by Me: Delicious Wheat-free Waffle Recipe
The recipe for these yummy wheat-free waffles was submitted by Russell, age 15. Russell says: "My parents nicknamed me the Waffle King, because I make waffles all of the time, and I am really good at it. This is one of my favorite recipes. The trick for making perfect waffles is to flip them after about 20 seconds, if you have a waffle maker that flips, some of them don't. That way the batter gets spread evenly. These waffles rock! I hope you like them as much as I do."
SUBMIT YOUR MADE BY ME RECIPE HERE
Makes 4 Belgian sized waffles
Ingredients
2 cups
whole spelt flour
2 teaspoons baking powder
1/2 teaspoon fine Mercola Crystal Cooking Salt
1 tablespoon cinnamon, optional but yummy
3 eggs
3 tablespoons Barlean's liquid coconut oil (or melted butter or coconut oil)
2 tablespoons cane juice crystals or Sucanat or 1 1/2 tablespoons maple syrup
1 1/2 cup
milk (I used goat's milk but any milk can be used)
1 tablespoon Nature's Flavor's organic vanilla extract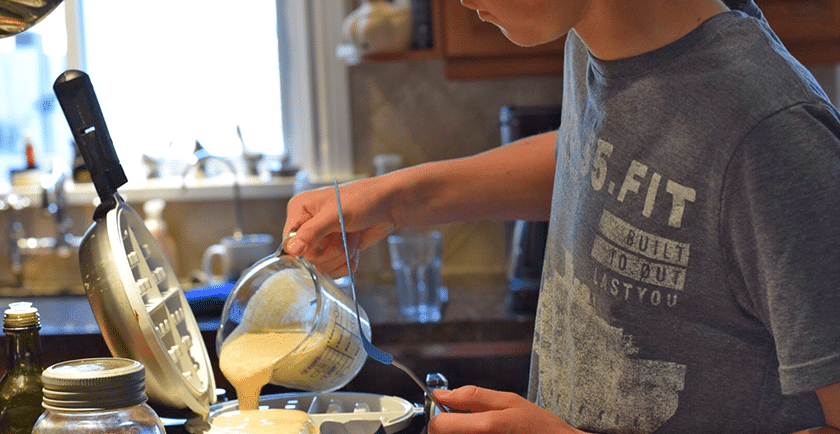 Directions
Preheat your waffle maker. (We use a Bialetti Ceramic Belgian Waffle Maker and it makes really thick waffles that never stick.)
Mix together the dry ingredients in a large bowl. In a smaller bowl beat the eggs well with a whisk, this will help to make the waffles fluffier. Add the coconut oil or butter, cane juice crystals, Sucanat or maple syrup, milk and vanilla, and whisk again until all of the liquid ingredients are well mixed.
Pour the wet ingredients into the dry ingredients and mix everything together with a wooden spoon. Pour your waffle batter into your preheated waffle maker. Serve with pure maple syrup and berries on top. Freeze any extras and reheat for a quick breakfast or snack.
Recipe and photos submitted by Russell, age 15.
SUBMIT YOUR MADE BY ME RECIPE HERE