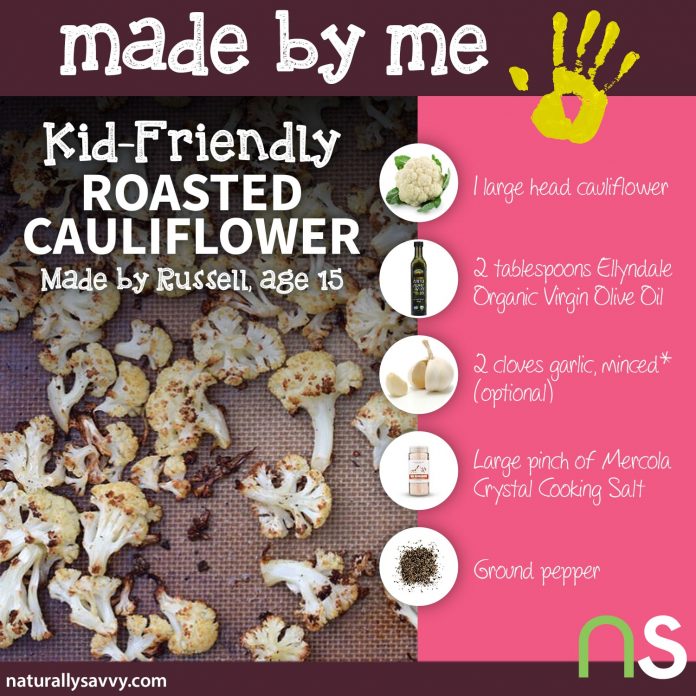 Made by Me: Roasted Cauliflower Recipe
This recipe was submitted by Russell age 15. Russell says "I don't eat a lot of vegetables but I really love roasted cauliflower. I like them just plain with salt and pepper, but sometimes I add different spices. They taste best when they are small and kind of crispy."
Serves 4
1 large head cauliflower
2 tablespoons Ellyndale organic extra virgin olive oil
2 cloves garlic, minced* (optional)
Large pinch Mercola Cystal Himalayan Cooking Salt
Ground pepper
Read More: The Many Benefits of Cauliflower
Preheat oven to 450º F. Cut the head of cauliflower into small pieces. The smaller the pieces, the crispier they get. Spread pieces out evenly in a roasting pan, so that they are mostly not touching. Mix garlic and olive oil together. Drizzle cauliflower with olive oil mixture and season with salt and pepper. Toss to combine. Sometimes I use my hands to coat the cauliflower so that it gets well covered. Roast, tossing once or twice, until cauliflower is golden brown and tender, approximately 25 minutes.
*Sometimes we make this with garlic and sometimes we leave it out. You can also add any other of your favorite seasonings too.
Recipe and image submitted by Russell age 15.
SUBMIT YOUR MADE BY ME RECIPE HERE