Moroccan Eggplant and Chickpea Casserole Recipe
Moroccan Eggplant and Chickpea Casserole Recipe This is definitely a good for your soul kind of dish…at least it is for me! It reminds me of a North African dish we used to make for the holidays when I was a little girl. The fresh ginger and blend of sweet spices and raisins simmer slowly with the eggplant and thinly sliced onions resulting in an absolutely luscious sauce! I love to serve it over my simply quinoa, with a sprinkle of red chili pepper or Piment d'Espelette–yum!
Serves 6
Ingredients 1 large eggplant, rinsed, skin on, and sliced (1/2 inch thick) 5 tablespoons olive oil 1 large yellow onion, thinly sliced (I like to use mandoline to get even slices but a sharp knife works well too) 2 cloves garlic, minced 1 tablespoon fresh ginger, grated 1 large can chickpeas, well rinsed and drained 1 1/2 teaspoon ground coriander 1 teaspoon ground turmeric 1/2 teaspoon ground cumin 1/2 teaspoon ground allspice 1/4 teaspoon ground cinnamon 3/4 teaspoon salt 1 3/4 cups water 1/3 cup raisins (unsweetened) Sprinkle of piment d'Espelette or replace with red chili pepper or cayenne (optional) Directions
Preheat the oven 350 F. Heat 2 tablespoons of the olive oil in a large cast iron dutch oven over high heat (I like Le Creuset but any heavy bottom deep pan will do), add the sliced onions and garlic and sauté for 4 to 5 minutes. Add all the spices and salt and stir well until the onions begin to soften.
Add the drained chickpeas and stir to coat well with the spices and onions. Add water and raisins, stir and continue to cook, uncovered for 10 to 12 more minutes. Turn off the stove and set aside until ready to assemble.
Meanwhile place the remaining 3 tablespoons of olive oil in a non-toxic, non-stick shallow grill pan and grill the sliced eggplant for a 4 to 5 minutes on each side, covered. (They do not need to be fully cooked at this point, as they will continue to bake in the oven)
Place the sliced eggplant at the bottom of a baking pan. Pour the chickpeas onion liquid mixture over the eggplant (do not stir) and bake in preheated oven for 30 minutes, uncovered.
Gently stir and continue to bake for an additional 20 to 25 minutes uncovered. Remove from oven and enjoy this hearty, delicious meal!
Recipe, image and video provided by Catherine Katz, Cuisinicity.com
---
About the Author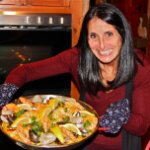 Catherine is the founder of Cuisinicity- Love the Food That Loves You Back, a website where good food and good health come together in a way that is feasible for today's busy families, as it has been for hers (Catherine and her husband, Nutrition expert Dr David L. Katz, have 5 children!). Catherine's recipes have been widely featured in national media, including ABC News, O Magazine, Eating Well, Prevention Magazine, Woman's World, Fitness, Shape, and many others. She is the co-creator of the Nutrition Detectives™ food label literacy program, now in use by thousands of schools all over the world and has collaborated in the production of other health promotion programming, including the Unjunk Yourself® music video program.