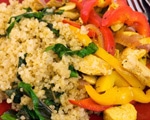 Mistakes can be good like accidently letting the onions caramelize instead of softening! Pistachios are a rich source of phytosterol (cholesterol lowering) and add great texture.Quinoa is a complete protein. Vegan, egg and gluten free.
Ingredients:
Quinoa with Caramelized Onions
2 tablespoon olive oil
1 yellow onion, diced
4 cloves garlic, minced
2 1/2 cup vegetable stock
1 cup quinoa
1 1/4 cup pistachios
1/4 teaspoon salt
1/8 teaspoon pepper, fresh ground
Vegetable Stock
4 onions
2 carrots
2 celery
1 leek
1 1/2 pounds mushrooms
1 sachet d'epices (parsley stems, thyme sprigs, cracked black peppercorns, bay leaf, and garlic cloves)
8 quarts cold water
Steps/Methods:
Vegetable Stock
Cut vegetables into large chunks and throw in 10 quart pot with water. Slowly simmer for 2 hours.
Add sachet d' epices (10 parsley stems without the leaves, 5 sprigs of thyme, 8 black peppercorns, 1 large bay leaf, and 4 garlic cloves wrapped in cheesecloth and tied with butcher's twine).
Simmer stock for another 45 minutes. Taste; if you are happy with the flavor, strain the liquid through a fine mesh sieve or strainer lined with cheesecloth. Keep stock and throw away vegetables. Measure the stock that you need for your recipe and then save the rest.
Quinoa with Carmalized Onions
In a 2 quart heavy bottom sauce pot (I recommend chemical free cookware) on medium setting, heat 2 tablespoon of olive oil. When olive oil is hot, add diced onions and quickly caramelize (brown); stir a few times. Push garlic through garlic press and add to onions. Cook for 1 minute and add stock to onion mixture. Season with salt and pepper.
Bring stock up to a boil. Slowly add quinoa in a steady stream and stir. Reduce heat, cover and simmer for 15 minutes. Check if quinoa is too dry, if so add 1/4 cup more stock, stirring to incorporate. Turn heat off and keep covered for another 10 minutes.
Check seasoning. Add pistachios and serve.
If you are concerned that you will have soggy nuts in the quinoa leftovers, ask your guest to feel free to throw the pistachios on their quinoa instead of you putting them in ahead of time.
Note: One idea that has worked really well for me is I freeze unused stock in small glass storage containers, measuring 2 cups of liquid in each. This way I can take out a portion or two when I need it and I do not have to worry about thawing the right amount. In addition, if there are leftover uncooked vegetables in your fridge (i.e. potatoes, turnips, rutabagas or parsnips) you can add those items to your stock just add 1 quart of water for every 1 1/2 pounds of vegetables.
Remember that the stock is only a base for your soup; do not season the stock with salt and pepper.
Additional Tips:
Quinoa with Caramelized Onions
2 tablespoon olive oil
1 yellow onion, diced
4 cloves garlic, minced
2 1/2 cup vegetable stock
1 cup quinoa
1 1/4 cup pistachios
1/4 teaspoon salt
1/8 teaspoon pepper, fresh ground
Vegetable Stock
4 onions
2 carrots
2 celery
1 leek
1 1/2 pounds mushrooms
1 sachet d'epices (parsley stems, thyme sprigs, cracked black peppercorns, bay leaf, and garlic cloves)
8 quarts cold water