Simple Healthy Homemade Raw Chocolate Recipe
Simple Homemade Chocolates Recipe

Make chocolates for your sweetheart this Valentine's Day. It is easier than you can imagine and it tastes so much better than store-bought. Here are the steps and the ingredients that you will need:
First of all, get organized.
Gather all of the ingredients together that you will need, and place them in individual prep bowls.
Here is the basic formula and some optional add-ins that you may want to include.

Ingredients

1/2 cup cocoa butter
1/2 cup Barlean's virgin coconut oil
1/2 cup raw cacao powder
3 to 5 tablespoons coconut nectar (or organic cane juice crystals, brown rice syrup, organic honey, maple syrup, etc.)
Optional add-ins:
• lucuma powder (a low-glycemic sweetener, makes it nice and creamy)
• berry powders or greens powders
• raw cacao nibs
• goji berries or other dried berries
• raisins or chopped dates
• crushed nuts or seeds
• chili powder, cinnamon, cardamom, etc.
• essential oils like mint and orange (Nature's Flavors makes special oils for flavoring chocolate)
• vanilla powder or Nature's Flavors vanilla extract
Directions

Step 1
Grate 1/2 cup of the cocoa butter.
Measure out 1/2 cup of coconut oil.
Measure out 1/2 cup raw cacao powder.
Measure out the minimum amount of sweetener that you will need. You can add more as needed.
Get ready any other ingredients that you may want to add in.
Step 2
Place 1/2 cup cocoa butter and 1/2 cup coconut oil in a double boiler on low heat. If you don't have a double boiler, place the ingredients in a glass bowl that is then placed in a shallow pan or bowl of hot water. Stir the oil and butter until it's melted and combined.
Step 3
If you'd like to add any other dry ingredients, stir them together with the raw cacao powder.
Step 4
Add the dry ingredients to the double boiler with melted oil and butter. Stir continuously until smooth.
Step 5
To sweeten the chocolate, pour in 3 tablespoons coconut nectar (or natural sweetener of choice), taste and then add more as needed.
Step 6
Add in anything else that you think would make it taste great: vanilla, essential oils, spices, etc.
Step 7
Pour the melted chocolate on a pan, plate, ice cube tray or in silicone chocolate molds. Place the chocolate in the fridge or freezer for 30 to 60 minutes or until firm.
Step 8
Enjoy this decadent treat and share the love with friends and family.
---
About the Author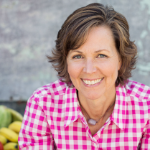 Cathy Russell is a Registered Holistic Nutritionist and Graphic Designer, as well as the Content Manager at NaturallySavvy.com. She blends her background in art and design with her passion for health and healing to bring a creative and balanced approach to nutrition for the whole family. Follow her blog at CathyRussellCreativeNutrition.com