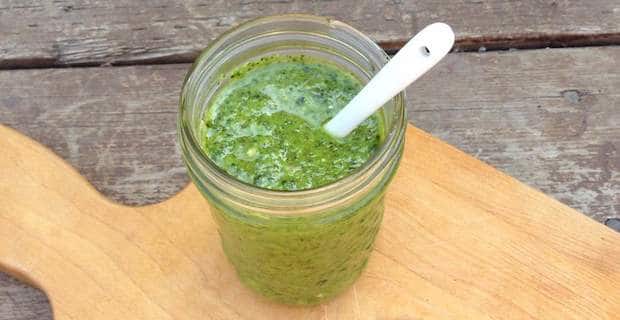 If you're looking for a delicious and easy recipe to incorporate into your super yummy summer menu (and to use up some of your basil plant's bounty), this easy pesto is just the thing. It takes five minutes to make and can be used in a number of different ways. Spread it on some crackers topped with mozzarella and a cherry tomato half, toss it with wholegrain pasta, or spread it on a pizza. The possibilities are nearly endless.
Ingredients:
handful of fresh spinach
handful of fresh basil
¼ cup + 1 tbsp walnut pieces
½ cup organic Parmesan cheese, grated
2 garlic cloves
½ cup Ellyndale Organic Extra Virgin Olive Oil
salt and pepper, to taste
Read more about the health benefits of olive oil
Directions:
Add spinach, basil, walnuts, cheese, and garlic to the bowl of a food processor. Pulse for about 30 seconds to roughly chop all ingredients. Season with salt and pepper and add half the olive oil. Pulse until a paste starts to form. With the food processor on slowly pour in remaining oil. Pulse until everything is combined and the pesto is the consistency you prefer. Transfer to a small mason jar and store in the fridge.
Note: Pesto will get a little thicker as it sits in the fridge, so you might want to add more oil to thin out if you are not using right away.
Image via Deanna Harris