Sweet Potato Gnocchi Recipe
By Naturally Savvy Recipes
Sweet potatoes are full of vitamins and minerals necessary to keep you healthy. An excellent source of vitamin C and magnesium, they are also an excellent source of the key antioxidant beta-carotene. All of these vitamins and minerals make sweet potatoes a super healthy food than can help control blood sugar levels, reduce inflammation, and boost cognitive function.
Ingredients 2 large sweet potatoes 1/2 cup organic ricotta cheese (for vegan option add egg substitute equivalent to 1 egg) 1 1/4 cup fine whole wheat or quinoa flour 1 teaspoon sea salt Pinch of freshly ground pepper 1/2 teaspoon cinnamon 1/4 cup Ellyndale Organic Virgin Olive Oil 1/8 cup maple syrup 10 to 15 sage leaves
Read more: 6 Unconventional Ways to Add Sweet Potatoes to Your Diet
Directions
Step 1: Cook the sweet potatoes Preheat oven to 425ºF. Pierce sweet potatoes with a fork and cook for 50 to 55 minutes, or until sweet potatoes are cooked through. Let the sweet potatoes cool, remove them from their skin and then mash them in a large bowl until smooth. To make them extra smooth, use a wooden spoon, and push them through a fine strainer.
Step 2: Prepare the gnocchi dough Add the ricotta or egg substitute, along with the cinnamon, salt and pepper to the bowl and mix thoroughly. Then, add the flour and combine until ingredients form into a soft dough. Note: The dough should not be a sticky, gooey mess. If you are using quinoa flour, you may need to add more flour until the dough reaches a nice, smooth doughy consistency. Wrap dough in a kitchen towel and refrigerate for one hour.
Step 3: Boil the gnocchi Sprinkle counter with flour and cut dough into four sections. Roll each section out into long snakes, just under an inch thick. Using a knife, cut the gnocchi into one inch pieces. Boil a large pot of water and season generously with salt. Add the gnocchi in two batches and cook for about 6 to 7 minutes each. Test one before removing the batch to make sure they are soft and cooked all the way through.
Step 4: Cook the sage leaves and finish the gnocchi While the sweet potato gnocchi are boiling, add olive oil to a large sauté pan on medium heat. Once oil is hot, add the sage leaves. Cook the sage leaves for a couple of minutes, and then remove and reserve for later. Add the maple syrup to the pan, and heat gently for a minute or so. Once the gnocchi are cooked through, add them to the sauce. Let them crisp up a little on both sides. Do not overcook as you want to be sure the insides stay nice and soft. Remove from heat.
Step 5: Garnish and eat!! Garnish with the cooked sage leaves, a pinch of cinnamon and another small drizzle of maple syrup. Enjoy!!
---
By
Naturally Savvy Recipes
|
December 23, 2016
About the Author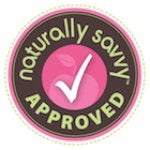 Naturally Savvy Recipes