Wild Rice Salad Recipe with Mint and Pink Salt
Wild Rice Mint Salad Recipe
One of the world's favorite flavors, mint's popularity in toothpaste, chewing gum, drinks, salads, ice cream, chocolate, breath fresheners and tea is tied to its feeling of freshness. This herb contains volatile oils that impart a refreshing sensation in the mouth--and it gives the same freshness to this wild rice salad recipe.
Mint (Mentha) has over 25 species and hundreds of varieties. It is one of the easiest perennials to add to your garden or windowsill, but be careful — it can take over a garden like a weed.
From stomachaches to sinus congestion, people have used mint to treat their ailments for thousands of years.
Ingredients
1 cup uncooked wild rice
3 cups water1 teaspoon Himalayan pink rock salt or grey sea salt
1⁄2 cup organic red wine vinegar
3⁄4 cup organic olive oil
1 cup green onion, chopped fine
2 cups English cucumber, chopped
1 cup avocado, chopped
1 cup cherry tomato, chopped
1 cup fresh mint, finely chopped
1 teaspoon Himalayan pink rock salt or grey sea salt
Directions
In a large saucepan, place wild rice, water and sea salt and bring to a boil. Immediately turn down heat to minimum so the rice does not lose too much water and let it simmer for 1 hour. When the wild rice is cooked all of the grains should be soft, cracked right open and expanded to 4 times their original size. (1 cup of uncooked rice will make 4 cups of cooked rice.) While rice is cooking, mix all other ingredients in a large bowel and let sit to marinate. Once rice is done cooking, remove from heat and let it cool for 15 minutes. Add rice to other ingredients and mix well. This salad can be eaten immediately but it tastes even better when given time to sit for an hour.
Reprinted with permission by Julie Daniluk RHN and Random House Canada / ©Slimming Meals That Heal 2014.
Image provided by Julie Daniluk
---
About the Author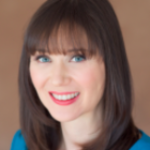 Nutritionist Julie Daniluk, RHN hosts Healthy Gourmet on the Oprah Winfrey Network (OWN), a reality cooking show that looks at the ongoing battle between taste and nutrition. Her award-winning bestseller, Meals That Heal Inflammation, has helped over 100,000 people enjoy allergy-free foods that taste great and assist the body in the healing process. Her new book, Slimming Meals That Heal, explores why inflammation causes weight gain and how anti-inflammatory superfoods shed pounds without dieting. Julie has appeared on hundreds of television and radio shows including The Dr. Oz Show and is a resident expert for The Marilyn Denis Show and Reader's Digest. Visit www.juliedaniluk.com. Connect with Julie on Facebook at Julie Daniluk Nutrition and on Instagram and Twitter @juliedaniluk.