Believing In Possibility
On January 20, 2009 we witnessed history for one man, a people, a nation and for the world. Barack Obama was sworn in as the 44th President of the United States, and is the first African American to hold the office. The significance of this achievement, in view of the challenges faced, is staggering.
It's been more than 200 years since the slave trade abolition. Seventy years later, slavery was actually abolished. However, even with these milestones, the mountain remained tall. People of African decent continued to fight against oppression. It was not until the civil rights movement, during the 1960's, that a true end to segregation was pursued and fought for. Formal segregation did not end until the 1970s; a cause championed by the likes of Martin Luther King who gave his life for the fight, and the dream, of a people.


So what is the lesson from all this? The lesson is belief. Throughout our lives we are challenged to overcome the constant voice in our heads, created from a lifetime of experience that says: it may not be possible for you. The greatest power we have over this voice is our ability to experience change and growth in our own lives. Every obstacle overcome, or new triumph experienced, creates a stronger thread of belief which allows us to take another step towards our dreams. Personal triumph is the greatest form of motivation to pursue new possibilities in the future. However, there is another tool at your disposal that can shine light on new possibilities for you as well.

It is at your disposal everyday in the library, bookstore, on the Internet, TV, or in conversations, if you seek it out. I am talking about the stories of others who have overcome great challenges that allow you to see the path taken by those who have gone before you. To this day, those who climb Mount Everest are inspired by the story of a man named Sir Edmond Hillary who first set foot on the summit on May 23, 1953. There is more to the story than the successful achievement of his climb. After his first attempt to climb Everest failed, Sir Edmond Hillary spoke to a university in the U.S. Before taking his place at the podium, he walked in front of a rather large picture of Everest, which was the backdrop for the stage. With a clenched fist on an outstretched arm he shouted out. "You are as big as you will ever get, but I will continue to grow!"

Examples of past triumphs help us to believe in what is possible. Your dreams are possible. Your thoughts can become your reality. Every person on this earth has the potential to declare, "I have a dream," and to breathe life into it.
For a little more inspiration, look no further than the video below:
Photo Credit: UIC Digital Collections
---
About the Author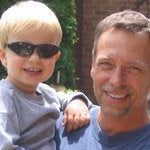 He is one of the bright new lights in the world of personal growth and leadership. Having come from a tumultuous past of poverty, parent alcoholism and life on the streets, Randy was able to achieve his own personal goal by reaching the very top in Canadian broadcasting. Most recently as the drive home talk show host of CFRB 1010 and as the host of Summit of Life on Global Television. His level of expertise has won him several national broadcast awards.
Through his own personal experiences he has developed a dynamic new leadership philosophy and written a book of the same name called "Life Before Can't". He is president of
TaylorMadeLeadership
and through his seminars, personal coaching and consulting he has gained notoriety among top corporations and associations in North America. His client list includes Aim Trimark, Investors Group, The Government, Brookfield Homes, Remax Realty and many more.