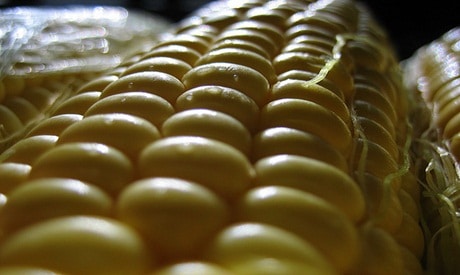 It is rather scary that the FDA approved genetically modified (GMO) corn without really knowing what the effects of eating it will do. A recently released study of the effects of GMO corn showed that it caused tumors, organ damage and even premature death to rats. The two year study led by Gilles-Eric Seralini of the University of Caen, and published in The Food Chemical & Toxicology Journal, is the first to examine the long term effects of eating GMO food. The rats were fed NK603, Monsanto's GMO corn grown throughout North America.
A few of the study's findings:
Up to 50 percent of male rats and percent of females died prematurely
Rats that drank trace amounts of Roundup had a 200 percent to 300 percent increase in large tumors
Rats fed GMO corn and traces of Roundup suffered severe organ damage
The study's abstract states that the researchers' analysis "clearly reveals for the 3 GMOs new side effects linked with GM maize consumption… effects were mostly associated with the kidney and liver, the dietary detoxifying organs." Other effects were noticed "in the heart, adrenal glands, spleen and haematopoietic system."
One of the researchers, Dr. Michael Antoniou, a molecular biologist from King's College London, said, "This research shows an extraordinary number of tumors developing earlier and more aggressively – particularly in female animals. I am shocked by the extreme negative health impacts."
"We can expect that the consumption of GM maize and the herbicide Roundup impacts seriously on human health," Antoniou added.
"This is the first time that a long-term animal feeding trial has examined the impact of feeding GM corn or the herbicide Roundup, or a combination of both and the results are extremely serious," said Patrick Holden, Director, Sustainable Food Trust. "In the male rats, there was liver and kidney disorders, including tumors and even more worryingly, in the female rats, there were mammary tumors at a level which is extremely concerning; up to 80 percent. of the female rats had mammary tumors by the end of the trial."
California's ballot initiative, Proposition 37, would require labels on GMO foods. If passed, the law would set a precedent in the U.S. for California has a wide-reaching influence.
Photo Credit: WayTru
Gina-Marie Cheeseman is a freelance writer/journalist armed with a passion for healthy living and a degree in journalism. Hailing from the dry, sunny Central San Joaquin Valley of California, she has not let the heat fry her brain. To contact Gina-Marie, visit her website.