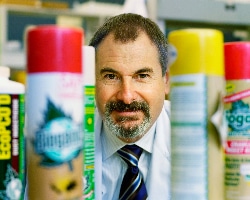 Some delicious herbs and spices may be the key to natural pest control on organic farms, according to researchers at the University of British Columbia in Vancouver, Canada.
Dubbed "killer spices" and "essential oil pesticides" by researchers, the essential oils of clove, mint, rosemary, and thyme can be mixed together several different ways and diluted in water to create a spray that either detracts or kills pest insects, but is safe for farmers to handle and consumers to ingest.
The study, presented by Murray Isman, PhD, last week at the American Chemical Society's 238th National Meeting, is the culmination of a decade of research that has led to the successful development of some products, according to a EurekAlert release.
Click here to read our full article on TreeHugger.