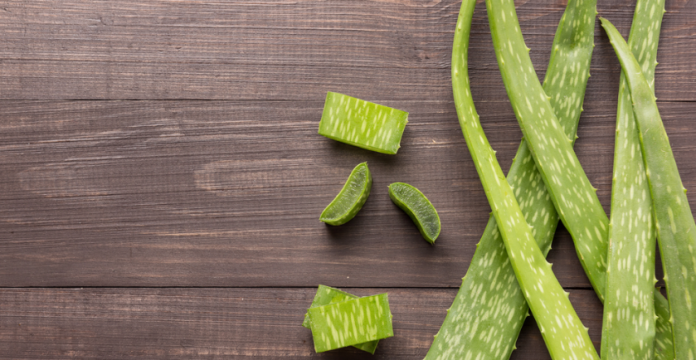 Many of us have been using aloe vera to treat scrapes and burns for years, but this super succulent has a variety of health benefits. The juice from the aloe plant is great for our immune and digestive systems, while the gel from the leaves has medicinal properties that contribute to its healing powers.
1. Heal burns faster. Aloe has been a household staple for minor burns for years, but it turns out there's scientific evidence behind this home treatment. A study found that aloe can reduce burn healing time by up to 9 days when compared to conventional treatment for first or second degree burns. Aloe is especially great for sunburns, and you can keep an aloe-based gel refrigerated for extra relief.
2. Reduce plaque. A study found rinsing daily with aloe vera juice to be as effective as mouthwash in reducing dental plaque, a key factor in oral health. The antibacterial properties in aloe stop plaque-forming bacteria in its tracks.
3. Aid digestion. Aloe can support overall digestive health by fighting inflammation and healing intestinal lining. It also promotes regularity and detoxification as well as balancing gut bacteria.
Read more about the key to a healthy, happy gut
4. Stabilize blood sugar. Aloe has been used as a home remedy to treat diabetes for a long time, but recent studies have shown it may be an effective preventative treatment to keep blood sugar stabilized and improve insulin sensitivity.
5. Improve skin and fight aging. The salicylic acid in aloe vera makes it a great treatment to kill breakout-causing bacteria, while the antioxidants and vitamins A, C, and E restore moisture. Fatty acids also help reduce redness caused by rosacea and eczema, and one study has shown it can increase collagen production and skin elasticity.
Read more about foods that brighten your skin
6. Relieve constipation. Aloe has been used in traditional Chinese medicine as an diuretic to eliminate constipation. Research shows the way we digest the aloe plant compounds result in a laxative effect.
7. Treat cold and canker sores. Aloe's antiviral properties are great for treating cold and canker sores. One study found aloe gel effective at both shortening the duration and pain caused by canker sores.
[Editor's note: We recommend choosing high-quality aloe products like those from our partner Lily of the Desert.]