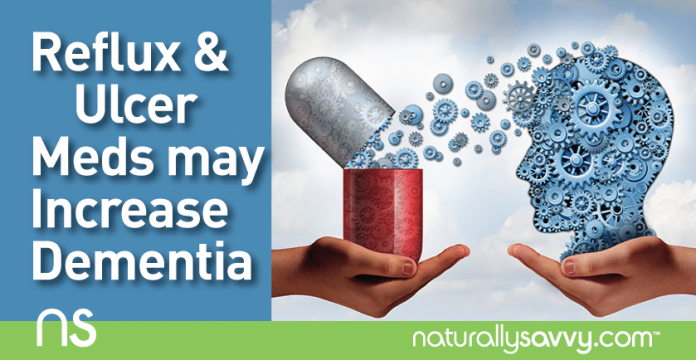 A new study suggests that meds commonly used to treat gastroesophageal reflux and peptic ulcers (proton pump inhibitors) may cause an increased risk of developing dementia. This association is especially disturbing because of the rise in dementia (including Alzheimer's disease) and the fact that more and more older adults are taking proton pump inhibitors.
You may more readily recognize proton pump inhibitors as Nexium (the little purple pill), Prevacid, Aciphex, Prilosec, and Protonix. These drugs reduce the production of stomach acid by inhibiting the activity of the enzyme in the stomach wall that makes the acid. (For more information on prescription medications and their side effects, you can visit HealthLine and use their Pill Finder tool.)
Dementia (including the most common form, Alzheimer's disease) and use of multiple medications are two characteristics often associated with older adults, so uncovering a possible relationship between the two is important. When it comes to proton pump inhibitors, the answer appears to be yes.
In the new study, researchers evaluated data from 73,679 individuals (from 2004 to 2011) age 75 or older, including their prescription drug use and proton pump inhibitors in particular. Here's what the experts found:
29,510 of the study group developed dementia during the study period
Among adults who regularly used proton pump inhibitors (2,950 patients), there was a 44 percent increased risk of dementia when compared with those who did not take these drugs
According to Britta Haenisch, PhD, of the German Center for Neurodegenerative Diseases in Bonn, Germany, who headed the study, "The present study can only provide a statistical association between PPI [proton pump inhibitor] use and risk of dementia." Therefore, experts need to now determine if these drugs have a biological reason for this apparent relationship and also to conduct randomized, prospective clinical trials to evaluate cause and effect.
Read about ways to prevent, delay or reverse Alzheimer's disease
However, the authors did point out that "the avoidance of PPI medication may prevent the development of dementia," and that this statement "is supported by recent pharmacoepidemiological analyses on primary data" and results of mouse studies in which the use of these drugs increased beta-amyloid levels (associated with Alzheimer's disease) in the brains of mice.
In the meantime, proton pump inhibitors have been found to pose other health risks, especially among older people. For example, use of these drugs for a year or more has been associated with a 44 percent increased risk of hip fractures because they reduce the amount of calcium the body absorbs. This type of injury can prove deadly for elderly folks.
A new (January 2016) study appearing in the American Journal of Cardiovascular Drugs notes that use of proton pump inhibitors has been found to increase the risk of cardiovascular problems. Another newly published article links use of the drugs with chronic kidney disease.
New research has indicated that common reflux and ulcer meds known as proton pump inhibitors may increase the risk of developing dementia. When this and other findings about these drugs are weighed, it seems wise for anyone who is taking them to talk to their doctor about alternatives.
[Editor's Note: Our partner, Maty's Healthy Products, has a 100% natural Acid Indigestion Relief formula that we recommend as a healthier alternative.]
Sources Gomm W et al. Association of proton pump inhibitors with risk of dementia. JAMA Neurology. Published online 2016 Feb 15. doi:10.1001/jamaneurol.2015.4791
Lazarus B et al. Proton pump inhibitor use and the risk of chronic kidney disease. JAMA Internal Medicine 2016; 176(2): 238-46
Sukhovershin RA, Cooke JP. How many proton pump inhibitors impair cardiovascular health? American Journal of Cardiovascular Drugs 2016 Jan 27
Yang Y-X et al. Long-term proton pump inhibitor therapy and risk of hip fracture. JAMA 2006 Dec 27; 296(24): 2947-53