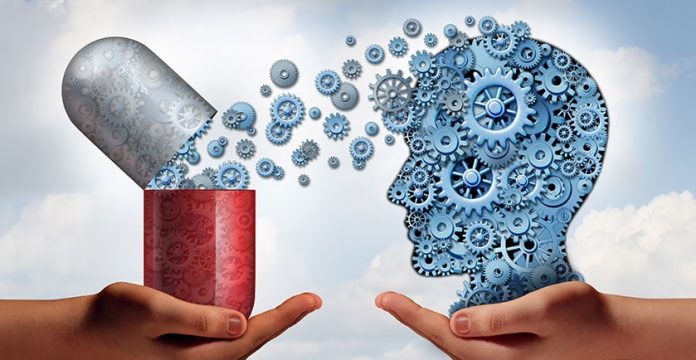 A new Canadian study suggests that use of antidepressants may be contributing to the development of Alzheimer's disease and other dementias. In their review, the authors explain how the literature showed that certain antidepressants were more likely to increase the risk of dementia than others, and that the risk was greatest among individuals who were taking antidepressants before age 65.
One reason these findings are of great concern is the widespread and frequently indiscriminate use of antidepressants, which are often prescribed for off-label use as well as for depression. In fact, about one-third of prescriptions written for antidepressants are for off-label use. For example, it is common for doctors to write a script for an antidepressant to help people manage insomnia, pain, hot flashes, headache and migraine, and other non-depression reasons. They also are being given to children and the elderly, two highly vulnerable populations.
Read about take this vitamin to reduce the risk of dementia and Alzheimer's
The antidepressant/Alzheimer's study
The review, headed by Dr. Darrell Mousseau, a professor in the department of psychiatry at the University of Saskatchewan, involved data from five studies that included about 1.5 million participants. Overall, the authors found that people with dementia, including Alzheimer's disease, were two times as likely to have taken antidepressants compared with people without dementia. The risk rose to three times among people who started taking antidepressants before age 65.
The class of antidepressants that seemed to pose the greatest risk were selective serotonin reuptake inhibitors (e.g., fluoxetine [Prozac], citalopram [Celexa], paroxetine [Paxil]), while older antidepressants, such as tricyclics (e.g., amitriptyline [Elavil], imipramine [Tofranil]) had the least impact.
What these findings mean
It's important to mention that this review does not prove cause and effect. As Mousseau noted, "not everyone who has depression gets Alzheimer's disease, and not everyone who has Alzheimer's has had depression." However, the findings do raise significant concerns about the effects antidepressants may have on the future development of dementias, especially among vulnerable individuals.
Experts also do not know how much impact other factors, such as the presence of other health issues, medication use, how much antidepressant exposure people have had, and age, could have on antidepressant use and dementia.
You also should know that some studies have suggested antidepressive medication may actually reduce the risk of Alzheimer's. The results of a March 2018 study in mice, for example, caused researchers to suggest that citalopram (Celexa) "might be a potential candidate for the early treatment of AD" because it reduced plaque deposits in mouse models of Alzheimer's.
The authors of the Canadian study believe the link between use of antidepressants and Alzheimer's is "biologically plausible." For now, it is worth keeping an eye on future research in this area and to talk with your doctor if you are currently using antidepressants to possibly consider alternatives.
Another step you can take is preventive; that is, consider using natural supplements such as curcumin and fish oil, which have been shown to help prevent Alzheimer's disease. A new study, for example, reports how curcumin prevents the accumulation of beta-amyloid in the brain, a classic indication of the disease, and also protects brain cells from beta-amyloid damage.
Similarly, researchers have shown that the anti-inflammatory properties of fish oil, specifically docosahexaenoic acid (DHA) and eicosapentaenoic acid (EPA) supplements, "are associated with a beneficial effect on cognitive function." The addition of curcumin and/or fish oil supplements may help in the prevention of Alzheimer's disease and other cognitive impairment.
[Editor's Note: CogGevity Advanced Brain Nutrition Supplement contains both curcumin and omega-3's (DHA and EPA). Also, our partner Barlean's has a variety of Omega Swirls that taste like dessert.]
Sources Moraros J et al. The association of antidepressant drug usage with cognitive impairment or dementia, including Alzheimer disease: a systematic review and meta-analysis. Depression and Anxiety 2017 Mar; 34(3): 217-26
Mozes A. Off-label antidepressants common; evidence lacking. WebMD 2017 Feb 22
National Post. Antidepressants may be doubling risk of Alzheimer's and other dementias, study suggests.
Olivera-Pueyo J, Pelegrain-Valero C. Dietary supplements for cognitive impairment. Actas Esp Psiquiatr 2017 Sep; 45(Suppl): 37-47
Reddy PH et al. Protective effects of Indian spice curcumin against amyloid-B in Alzheimer's disease. Journal of Alzheimer's Disease 2018; 61(3): 843-66
Zhang Q et al. Citalopram restores short-term memory deficit and non-cognitive behaviors in APP/PS1 mice while halting the advance of Alzheimer's disease-like pathology. Neuropharmacology 2018 Mar 15; 131:475-86