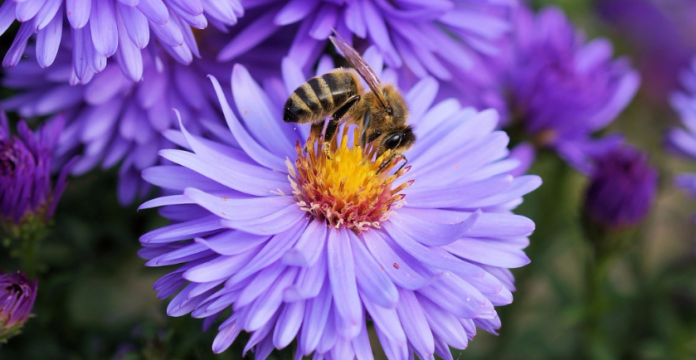 A look at the species newly added to the endangered list by the U.S. Fish and Wildlife Service contains a scary surprise. Seven species of yellow-faced bees in Hawaii made the list. The bees are the first in the U.S. to be protected under the Endangered Species Act.
Read more about bee pollen and royal jelly
The seven species are under threat from multiple factors, including loss of habitat from land conversion, development, recreation, non-native species, invasive plants, and climate change. Conservation of the bees "will require the active management of natural areas where populations are known to exist," Matthew Shepherd, Communications Director for the Xerces Society, wrote in a blog post. The bees are "extremely important," according to Shepherd, because they are "critical pollinators of many endangered native Hawaiian plants." Without the Hawaiian yellow-faced bees the endangered plants could become extinct. The USFWS grants protection under the Endangered Species Act to over 300 plants in Hawaii and recently added 39 species to the list.
The Xerces Society has fought long and hard for the seven species of yellow-faced bees to gain protection. In 2009, the organization submitted petitions to the USFWS to list the seven species as endangered. The decision is list them is "excellent news for these bees," the Xerces Society stated in a press release.
The yellow-faced bee species found in Hawaii evolved from one type of bee into "63 known endemic species," according to a fact sheet by the University of Hawaii at Manoa. They make up about 10 percent of the global population of yellow-faced bees, which is more than are found in all of North America. The bees are "important pollinators" for many trees and shrubs in Hawaii.
The Hawaiian yellow-faced bees are not the only bees under threat. In September, the USFWS announced their proposed listing of the rusty patched bumble bee. The bee is found throughout the eastern and upper-midwestern U.S. In 2013, the Xerces society filed a petition with the federal agency list the bee as an endangered species.
Globally, honey bees are under threat. The rapid decline of honey bees is known as colony collapse disorder, which is linked to pesticides, including neonicotinoids. In January 2016, the U.S. Environmental Protection Agency (EPA) said that imidacloprid, a type of neonicotinoid poses a risk to honey bees.
Honey bees are necessary for pollination, accounting for about 80 percent of worldwide pollination. Just one bee colony is able to pollinate 300 million flowers a day. Seventy of the world's top 100 food crops, supplying about 90 percent of global nutrition, are pollinated by bees.
Read about colony collapse disorder