We're going to be giving away three beautiful wooden four-compartment tea storage boxes filled with a variety of ORGANIC INDIA teas and infusions.
ORGANIC INDIA Tulsi teas and infusions are your daily ritual for stress relief.
ORGANIC INDIA Tulsi teas and infusions contain meaningful amounts of the ancient adaptogenic herb Tulsi (Holy Basil)
Adaptogens help the body adapt to physical, emotional and environmental stress
Tulsi (Holy Basil) has been used for more than 5,000 years to:

Aid in stress relief & uplift mood
Support the immune system
Support the natural detoxification process
When you choose ORGANIC INDIA, you are actively participating in their mission of True Wellness to create a happier, healthier & thriving global environment.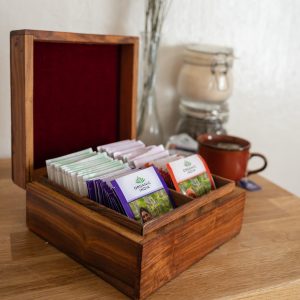 Enter today to qualify to win one of three prizes valued at $55! Please share this page on all your social media profiles so all your followers will know about this amazing giveaway.
---
Our giveaway is now closed. Congratulations to our winners:
Niurka G.
Kathleen D.
Tonya F.
Stay tuned for more contests.
---
By entering the contest, you agree to receive Naturally Savvy and Organic India's newsletter. You can opt-out at any time.
Win one of three prizes of Organic India Infusions valued at $55. Contest runs from June 27 – July 9, 2019.
Open to the US only. One entry per person.
---
---
To always know about our latest giveaways and special events, subscribe to our newsletter.