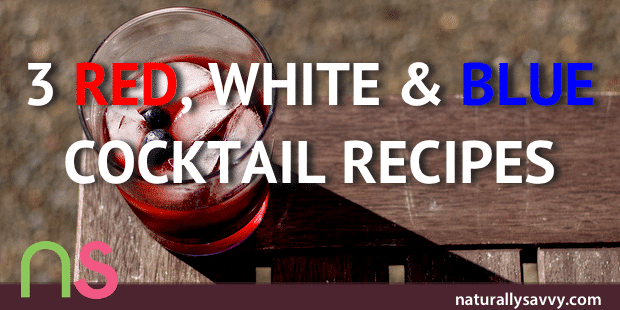 The Fourth of July is a quintessentially American holiday, celebrating the day that America officially declared itself an independent nation. Yet many of our traditional modes of celebrating Independence Day have their origins in other nations. Fireworks originated two centuries ago in China. Barbecues were brought to us by the Spanish explorers. Even the hamburgers and hot dogs we grill at our barbecues are from another country – Germany.  Hamburgers come from Hamburg, Germany and hot dogs come from Frankfurt, Germany. But not these cocktail recipes. They're as American as Red, White and Blue.
That ubiquitous Fourth of July color scheme: the red, white, and blue that we see everywhere on Independence Day is not just on the American flags we wave around. It's on our tablecloths, our paper goods and even on our clothing. And when you come to a Fourth of July celebration at my house, you'll find it in the cocktail glasses. And not just any old red, white, and blue cocktails, either – because I am aware that so many of our Fourth of July traditions come from other countries, I feel honor-bound as an American to source my red, white and blue cocktail recipes solely from ingredients that are native to America.
Here are the cocktail recipes that I will be serving this Independence Day:
1. The Red
My red cocktail is basically a Manhattan, except that it's made with bourbon, which originated in Kentucky, and it uses a homemade cherry syrup – although cherries are not native to our soil, they are now strongly identified as an all-American fruit.
Here's what you'll need for a pitcher with eight servings:
2 pounds stemmed and pitted cherries
2 cups organic cane sugar
1 ½ cups hot water
2 cups of bourbon
In a large bowl, smoosh the cherries with the sugar to release the juices. Stir in the hot water and then allow to cool. Strain the cherries out, and muddle a handful with the back of a spoon before adding the bourbon and ½ up of the cherry syrup. Add ice and shake well. Strain into glasses.
Read more about the health benefits of cherries
2. The White
My white cocktail uses rum, which was has been made in the United States since the 17th century. The following cocktail uses rum and the juices of coconut and apples, both of which are grown in this country.
Here's what you'll need for a pitcher with eight servings:
3 cups of coconut water
2 cups of white rum
½ cup of organic apple juice
Combine coconut water and rum over ice, and then strain into glasses. Add a splash of apple juice to serve.
Read more about the health benefits of coconuts
3. And the Blue
For blue cocktails, many people use Blue Curacao, which is actually an orange-flavored liqueur which only looks blue because it is artificially colored. I don't feel right about that, and so my blue cocktails rely on blueberries for color. And this seems appropriate, since blueberries appear navy-blue on the outside, and that is very much in keeping with the blue of the American flag.
Here's what you'll need for a pitcher with eight servings:
1 cup white rum
1 cup lemon juice
¼ cup organic cane sugar
1 cup club soda
1 cup fresh blueberries
Combine rum, lemon juice and sugar in a pitcher until the sugar dissolves. Shake with ice, pour into glasses, drop in a color-burst of blueberries and top with club soda.
Read more tips for eating healthy at summer barbecues