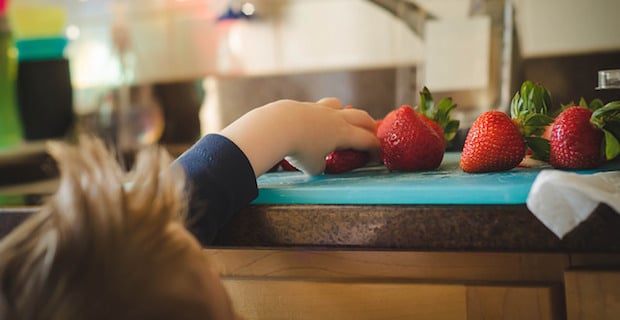 Now that back to school routines are setting in and our families are getting used to life back at school one of many issues that moms run into is the after school snack attack. As a teacher who eats lunch before 11am I can attest that the hunger snack attack is an ugly thing both in me and my kids. As I have been working on creating a healthy home for both me and my family, I have worked hard at having snacks on hand that are both nutritious, filling, healthy, and most importantly quick and easy. As we all know when that snack attack hits we need to take be prepared. I have put together a five step guide to healthy snacking and a list of 10 healthy snacks to help get you started and keep you from ripping your hair out!
Five Steps to Help Your Fight the Snack Attack
1. Don't Panic
Although this is a critical time for everyone in the family and there is often question whether you will all make it out alive… DO NOT PANIC AND GO FOR THE UNHEALTHY FOOD BECAUSE IT IS EASY AND LESS CONFUSING. I get that changing your lifestyle is hard. I get that this organic, no-dye, non-GMO stuff can be overwhelming. Just remember you didn't develop your current eating habits overnight, you don't have to change them overnight. Maybe start by picking one replacement snack a week with a healthier or organic version. Pick one focus point (maybe you want to go organic or just work on overall health first then work on the organic stuff). Make small changes and they will over time lead to a bigger change. Plus, I promise if you make small changes your wee ones won't even notice that changes have been made. Just no panicking this isn't as hard as it seems. Baby steps!
Read more about the top reasons to choose organic
2. The Best Offense is a Good Defense
You need to plan ahead and be ready for the snack attack. You need to plan for healthy snacking the way you would for your dinners. I would plan for two or three different snacks for the week. Again if changing everything is overwhelming, plan one or two new healthy after school snack option a week. In two months you will have a whole new rotation of snacks to offer your family to keep the snack attack away.
3. Presentation is Everything
Pinterest is your friend people! I know there are moments where I laugh and go "Please what real mom has time for this" – yet there are lots of great snack options as well as ways to present snacks for your kids. Try searching healthy snacks, cute kid snacks, fun kid snacks and you will get hundreds of options. My kids like anything in cute containers or bento boxes. Even if it is cut up fruit but it in a cute container they love it. It may seem like a lot of time upfront, but if it gets your kids eating healthy snacks then it may be worth the extra effort
4. Aim for Protein and Healthy Fat in Your Snack
One of things I found out from working with Alysa – Mamavation's previous RD (go check her out here) is that most moms (and their kids) are not getting enough protein and healthy fats in their diet. Try to pick snacks that have some substance to them. Protein and fat are not only good building blocks for health they also have staying power for keeping you and your kids fuller longer. Just remember protein comes in many forms not just meat!
5. Lead by Example
We all know we should lead by example but if your kids are eating a healthy snack of fruit and a nut butter and you are in the kitchen sucking down a soda and chips this whole thing isn't going to work out. Your kids are always watching (please, every mother knows you can't even go to the bathroom unwatched – they are totally watching what you eat). Set the example. Try the new snack. Sit and enjoy a snack with them. You, just like them, could use a healthy boost to get you through till dinner time.
If you are anything like me, you need examples, suggestions, and ideas before you can venture out on your own. Here are 10 of my go to snacks in my house. Let me be honest I need quick snacks so there is not a lot prep with these items.
1. Organic Fruit with nut butters (our favorite is the standard apples with peanut butter)
2. Frozen grapes with a cheese stick
3. Yogurt Tubes (Our friends at StonyField have great ones)
4. Veggie Strips with hummus
5. Crackers with hummus or cheese
6. Homemade granola bars (if homemade is not for you there are several great organic prepackaged ones) with organic milk
7. Banana Cookies (recipe taken from Skinny Taste) I use cinnamon chips and organic bananas and oats
8. Cheese quesadilas (maybe one or two triangles per child based on serving size for age)
9. Baby Carrots with Greek yogurt (again our peeps at Stonyfield have great products) with salsa mixed in for dipping
10. Fruit Smoothie – In our house we do peanut butter, almond milk, and frozen fruit.
Read more about easy and healthy lunch ideas for kids
Hopefully these snacks will get you on your way to handling that after school snack attack!
Written by MommaHunt16 for Mamavation.
Image: Kelly Sikkema