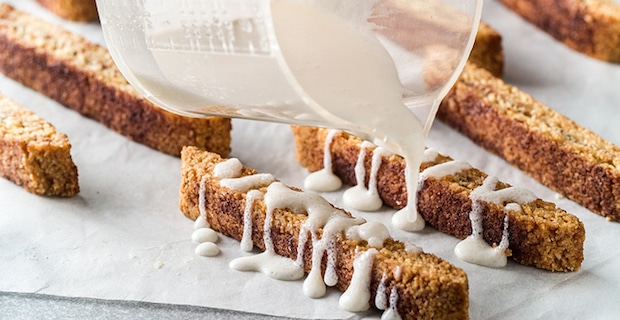 I hardly understood the reasoning for eating gluten-free until my best friend told me she had Celiac disease. No bread, no beer, no baked goods—no way! This was my initial reaction. But since then I've learned a lot about the condition from a girl who suffers immensely if she accidentally partakes in gluten. And I've been particularly surprised by what you can have on a gluten-free diet. And if it's baked goods you crave, I suggest making them yourself. Here are some common gluten-free baking mistakes:
1. Watch out for cross contamination.
This is especially true of those with Celiac disease, which is an autoimmune disorder. This means that when someone with Celiac ingests gluten their gastrointestinal tract attacks itself. And sensitivity includes cross contamination. When you're baking don't use utensils that have touched both glutenous and gluten-free foods including wooden spoons, whisks, pots, pans, and serving platters.
Read more about maintaining a gluten-free diet while you travel
2. Not all gluten-free flours are created equal.
Just because it's gluten-free doesn't mean that it will work in your recipe. There are tons of gluten-free flours including gluten-free all purpose, chickpea, fava bean, rice, amaranth, and potato flour to name just a few. They each have a different purpose so follow your recipe carefully.
3. Avoid overly dense baked goods.
Sometimes gluten-free baked goods can be overly dense. But this is where starches come in. When a recipe calls for starches, potato starch, corn starch, arrowroot starch, etc. it's in order to give the recipe bounce.
4. Be careful with oats.
Oats are added to a lot of baked goods but one of the biggest issues is cross contamination because commercial oats are often milled with wheat products. You have to buy them from small independent producers like Bob's Red Mill.
5. Not all gluten-free flours are nutritionally equal.
Adding nut flours to your baked goods amps up their nutritional content. Nut flours like almond and hazelnut add protein, amino acids, and fiber to your end product. Coconut flour is also high in fiber.
Read more tips for baking and eating gluten-free
6. Refined is still refined.
Avoid adding refined sugars when you're baking gluten-free. Try honey, brown rice syrup, brown sugar, or maple syrup. Honey adds moisture to gluten-free recipes as does agave.
[Editor's Note: If you want to eliminate gluten from your diet for good, click here to sign up for Naturally Savvy's Gluten-Free Get Healthy Challenge.]
Image: rpavich