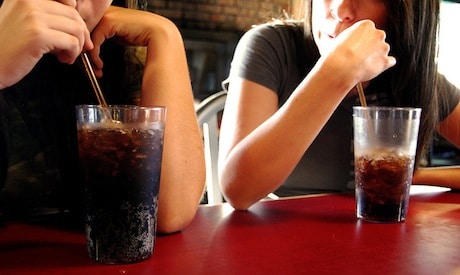 A recently published European study found an association between drinking just one 12-ounce sugar-sweetened soft drink and type 2 diabetes. Published in Diabetologia, researchers for the study looked at information from approximately 12,000 people with type 2 diabetes and 15,000 people who mostly didn't have diabetes. The participants were part of a larger study being conducted in eight European countries. The purpose of the study was to examine the association of drinking sugary drinks with type 2 diabetes in European adults. The study found that participants who drank one 12-ounce soft drink daily were 18-percent more likely to develop diabetes than those who didn't drink soft drinks daily. People who drank two sodas daily were 18-percent more likely to have a stroke.
This study parallels results of other studies: An American Heart Association (AHA) study published earlier this year found that sugar-sweetened drinks may be linked to about 180,000 deaths in the world every year and about 25,000 deaths in the U.S. The study linked consumption of sugar-sweetened drinks to 133,000 diabetes deaths, 44,000 deaths from cardiovascular diseases and 6,000 cancer deaths.Read more about cancer prevention
This is bad news for many Americans. A Center for Disease Control (CDC) survey from 2005 to 2008 found that about half of the U.S. population drinks sugar-sweetened drinks daily. Consumption of sugar-sweetened drinks has increased over the last 30 years among both American children and adults. The CDC survey found that males consume more than females, and teenagers and young adults drink more than other age groups. Low-income persons drink more sugar-sweetened drinks than those who higher incomes.
The USDA Dietary Guidelines for Americans, 2010 recommends limiting the consumption of sugar-sweetened drinks. The AHA recommends that limiting added sugars to no more than half of your daily discretionary calories allowance. For most women, that's no more than 100 calories daily, or about six teaspoons of sugar, and for men it's 150 calories daily, or about nine teaspoons. Just one 12-ounce can of regular soda contains eight teaspoons of sugar.
While the logical option may be to choose a diet soda instead of a sugary one, there are plenty of reasons for avoiding those too. The primary artificial sweeteners (aspartame, ace-K, sucralose, etc.) used in most diet soda products have been linked with side effects including neurological disorders, tinnitus and even certain types of cancer. Some research has even connected the consumption of diet sodas with weight gain, rather than weight loss.Read more about The Scary Seven™
And in both diet and regular soda, there are artificial colors–primarily caramel color–which has been linked to cancer. There's also the issue of BPA (bisphenol-A), a toxic chemical ingredient used in the lining of soda cans. It has been linked with reproductive and developmental issues.
Still, there's something refreshing in a bubbly, flavorful soda, right? The good news is that you don't have to give it up entirely. Natural sodas, like Begley and Bill's, which uses Sweetnol™ to sweeten their diet sodas can be a healthy choice when you need a sweet treat. Sweetnol™ is a proprietary blend of natural and non-toxic sweeteners erythritol and stevia that give you the sweet flavoring a soda should have without all the toxins and health risks it should not have.
Photo Credit: Bailey Rae Weaver