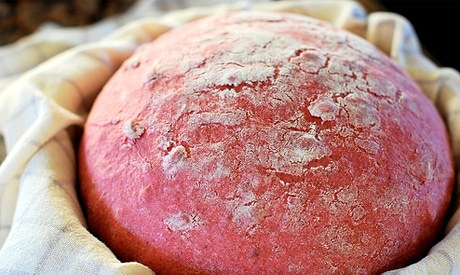 An extremely dark vegetable, the beet may be a bit of an acquired taste. But, nonetheless, the health benefits it can provide make it worth incorporating into your diet. It has been associated with lower blood pressure and contains fiber, folic acid, protein and potassium. Because of its ability to lower blood pressure, a new study has indicated that adding beets to various breads could actually help reduce the risk of developing heart disease as well.
The study was published in the British Journal of Nutrition and found that, "enriching bread with nitrate-rich beetroot could help to lower our risk of heart disease by reducing blood pressure and improving blood vessel functioning," reports Nutra Ingredients.
The research team found that "consumption of four slices (200 grams) of beet bread led to a lowering in diastolic blood pressure of up to 7mm Hg when compared to a control group who consumed normal white bread.
Professor Julie Lovegrove from the University of Reading led the study and stated that "these exciting and novel findings show for the first time that bread containing beetroot improves blood vessel function." She added that "this is an important addition to the increasing body of evidence that suggests beneficial effects of dietary nitrate rich foods on the heart."
This new research compliments previous findings that beet juice could also be quite effective in lowering blood pressure.
In the United States, heart disease is the leading cause of death for men and women, and about 600,000 people die of heart disease every year, according to the Centers for Disease Control and Prevention.
Photo Credit: kochtopf