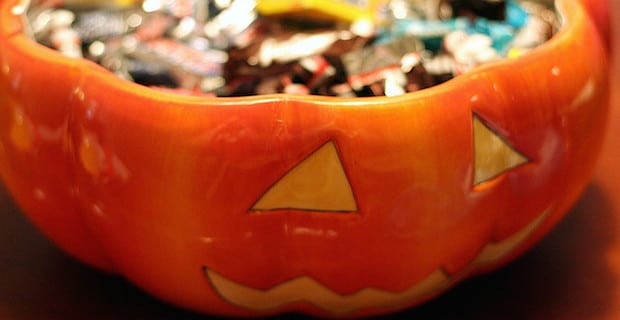 Halloween means trick-or-treating, and that means buying candy to pass out to children who knock on your door expecting a treat. The trouble is that most of the candy given to children on Halloween is filled with artificial ingredients, corn syrup (which means GMOs), and trans fats. However, there are better alternatives.
As a child, my father took my sister and I trick-or-treating in his hometown, which is incredibly small. We are related to many people there, and some of our relatives would put aside candy for just my sister, cousins and me. We would get whole size candy bars and small bags full of miniature ones. If you like to put aside candy for relatives or the children of your friends, try SunSpire's candy bars. One of them is a coconut almond bar, that the company describes as a "high quality Almond Joy bar," and the other is a coconut bar that it describes as a "high quality Mounds bar." Read more about healthy snacks
There is nothing quite like an Almond Joy or Mounds bar. The difference is that SunSpire's candy bars are certified organic and fair trade, and they do not contain refined sugars, hydrogenated oils, trans-fats, preservatives, artificial colors or flavors. To find a store near you that sells the candy bars, type in your zip code on the company's website.
There's something about lollipops and gummy bears that children (and children at heart) love. YummyEarth is a company that produces lollipops and gummy bears with real fruit extracts, organic ingredients, and without high fructose corn syrup, and artificial colors. The products are available at Whole Foods and online.
Surf Sweets also make lollipops and gummy candies which are free of artificial colors and flavors, trans fats, GMOs, and corn syrup. They are certified organic, and provide 100 percent Vitamin C per serving. You can buy them online, as well as in many local stores.
Glee Gum makes gum pops and Mini Glee Variety Packs of their natural chewing gum. Free of artificial colors, flavors, preservatives, and sweeteners, their gum is Non-GMO Project Verified. Read more about the Scary Seven foods to avoid
If you would like to find other companies that sell candy that doesn't contain the nasty ingredients you prefer not to serve a child, then check out Unjunk Your Junk Food: Healthy Alternatives To Conventional Snacks by Naturally Savvy founder Andrea Donsky and Randy Boyer with Lisa Tsakos.
Image:CarrieLu