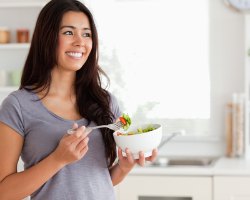 Detox has become a bit of a buzz word over the past few years. Unfortunately that term can spark negative images of food deprivation or of drinking bitter concoctions to rid yourself of accumulated wastes. There's no question that we are exposed to more toxins than ever before, from the polluted air we breathe to the chemicals we slather on our skin, and of course the pesticides and preservatives in the foods we eat. Even stress takes its toll and can add to your body's acidity and toxic levels.
The good news is that you can enjoy some benefits of detoxing without going through a strict regimen of starvation. Exercise is a perfect antidote to reduce stress. Moderate aerobic activity improves circulation, which enhances the transport of oxygen and nutrients into your cells and promotes the elimination of waste products from your tissues and bloodstream. Yoga can also be very effective, particularly to ease tension and help calm your mind.
What you may not know is that there are several simple habits you can incorporate into your daily routine to support and optimize the function of your liver, which is your main organ of elimination. Ensuring that your liver is being fed the nutrients necessary for its proper function goes a long way towards achieving vibrant health.
Here are 5 of my little secrets that will help clear toxins, and set you on the path to increased energy, clear thinking, radiant skin and improved weight loss.
Drink Water
Drink 8-10 glasses of filtered water every day. It is amazing how many clients I see who do not drink enough water. Proper hydration promotes digestion and improves kidney and bowel function. It will even improve your sweat rate during exercise. Flushing wastes and reducing congestion are key to the elimination of toxins. Added benefit: clear and luminous skin.
Lemons
Squeeze half a lemon into a glass of water first thing each morning. Lemons are such a cleansing, purifying detoxifying fruit! Taken on an empty stomach, lemon juice will stimulate the liver's detoxifying enzymes and release bile from the gall bladder (which can have natural laxative effects). Great way to get things moving first thing each morning.
Apples
Your mom was right. Eat an apple a day. High in pectin and fiber, both these substances help cleanse the intestines. Fiber, in particular, will bind with toxins (including estrogen) and promote regularity. Two more great sources of fiber: chia and ground flaxseeds. Fabulous additions to your morning smoothies.
Cruciferous Vegetables
Your liver needs certain nutrients for optimal function. Cruciferous vegetables contain phytochemicals (such as sulforaphane and indole-3-carbinol) that stimulate the liver's cleansing enzymes. Best eaten raw or lightly steamed, enjoy at least 1 daily serving of broccoli, cauliflower, kale, rapini, cabbage or arugula.
Dry Brushing
Did you know your skin is your largest organ of elimination? Not only will dry skin brushing slough off dead skin cells, it will also stimulate your entire circulatory system, including blood and lymph flow. This helps cleanse impurities from your cells and removes waste products so you're truly glowing from the inside out. Another bonus: stimulating your lymph system will also give your immune system a boost.
Detox Recipe
Beets are another fabulous fall vegetable that promote enzyme activity in your liver and help detoxify the blood. They're high in fiber, folic acid, manganese and potassium and have powerful cancer-fighting properties. Your taste buds will love this salad as much as your liver does!
Arugula-Beet Salad
Ingredients:
4-5 Medium beets
1 Bunch arugula
1/2 Cup walnut pieces
1 Apple, sliced
1/2 Cup red onion, sliced
2 Oz goat's milk cheese
Dressing:
1/4 Cup extra virgin olive oil
1/4 Cup lemon juice
2 Tbsp balsamic vinegar
1 Medium clove garlic, minced
2 Tbsp sesame seeds
Sea salt, to taste
Directions:
Whisk dressing ingredients and set aside.
Scrub beets under cold water. Leave the skins on and oven roast at 350 degrees for 45-50 minutes.
Cool slightly, peel and cut into chunks. Toss with 2-3 tbsp of the dressing.
Wash and pat dry arugula leaves. Arrange in a salad bowl with walnuts, apples, red onion, goat's cheese and beets. Toss with dressing to taste and enjoy!