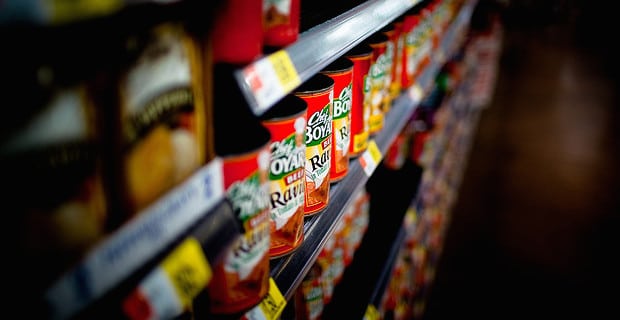 The global canned food market is big business. It is a business worth over $77 billion in 2013 and it is expected to reach almost $100 billion by 2020. People turn to canned foods because they are convenient and last a long time in their cupboards. What some folks do not realize is that most canned foods are lined with bisphenol A (BPA), a synthetic estrogen found in the epoxy coatings of food cans. BPA has linked to numerous health problems.
Although some companies have pledged to stop using BPA in their cans, consumers have not had a way of knowing which ones use BPA. Now, they do. A new report by the Environmental Working Group (EWG) lets consumers make informed choices when buying canned food.
"It's the wild wild west of canned food in the U.S.," as Samara Geller, EWG database analyst, told me. Companies are not required to label cans as containing BPA. That's not the only problem. Geller said that there is also "no current consensus definition of BPA-free devised by either industry or government."
The EWG's report analyzed 252 canned food brands produced by 119 companies last year to determine which use BPA-based epoxy. What they found is that 78 brands used BPA-based epoxy for all of their products and only 31 brands used BPA-free cans for all of their products. That amounts to only 12 percent of all brands surveyed using BPA-free cans for all of their products.
The report's other findings include:
34 brands (14 percent) used BPA-free cans for one or more of their canned products
46 percent of the brand surveyed did not say whether they are working to shift to BPA-free cans
43 percent of all brands gave either incomplete or ambiguous answers to survey questions about their use of BPA or just did not respond
There is a problem with the companies that said they are using BPA alternatives. Companies that said they had either eliminated BPA or were in the process of phasing it out did not disclose the alternatives. Only 13 brands gave what the report calls a "vague description" of the BPA alternatives they are using.
There is just not enough information on BPA substitutes, Geller cautioned. It is even possible that one or more of the substitutes are "BPA analogues with structural similarity and similar hormonal or physiological activity," she said. That means they could be as bad as BPA.
What is badly needed is a "true overhaul of our federal regulatory system that allows harmful replacements onto the market in the first place," Geller declared. Until an overhaul happens, there are several ways consumers can prompt food manufacturers to adopt safer alternatives. They can contact brands and put pressure on them to provide information on their BPA use and if they use alternatives, to reveal what they are using. Consumers can also ask companies that use BPA-free cans to independently test their products to ensure BPA levels are low.
Read more about how to avoid BPA
There is a sure fire way for consumers to protect themselves from exposure to BPA and alternatives that may or may not be safe. It is by either limiting or avoiding canned food, the EWG recommends. Swapping canned foods for fresh or frozen varieties is the only way to avoid exposure to toxic chemicals.
Image: Vox Efx