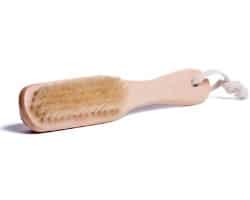 Are you plagued with dry flaky skin during the winter? I hate to admit it, but I'm definitely one of those unfortunate souls. All the extra virgin coconut oil, shea butter, and natural creams get slathered on, but wear off quickly. Yes, I also eat lots of vegetables, healthy fats, and take my omega 3's religiously, but to no avail, come the winter months my skin (especially my shins!) look a little sad.
However there is one miracle thing that has helped dramatically reduce the leathery appearance of my twigs. What is my secret weapon? It's Dry Skin Brushing!!
What is dry skin brushing?
The skin is the largest organ of the body and is responsible for ¼ of the body's detoxification processes each day, eliminating approximately 2 lbs of waste daily! When we are toxic internally, the skin is one of the first organs to show signs of irritation. Although the skin is responsible for eliminating toxins, many of the daily pollutants and toxins from the environment enter directly from our skin into our bodies. Therefore, it is of upmost importance to take care of our skin.
Our lymphatic system is an important part of your immune system, and is important for white blood cell production and waste removal. The lymph system relies on exercise and movement to assist in drainage (unlike the circulatory system which has a pump) and only has tiny one-way valves going towards the heart (which then gets removed).
Dry skin brushing helps our lymph drain out toxins for proper removal. It supports and stimulates circulation, removal of toxins, and increase healing processes throughout the body to areas that need it the most. An extra perk is pretty skin through exfoliating and removing the dead skin cells. This helps to improve cell renewal and skin texture. Goodbye leathery legs!
What are some additional benefits of dry skin brushing?
By increasing circulation to the skin, your body is able to discharge unwanted toxins through lympathic drainage. This helps to purify your body.
By increasing blood flow, dry skin brushing can help to reduce skin sagging, and can lessen the appearance of cellulite (banished)!
The nervous system is rejuvenated as the nerve endings in your skin are being stimulated
Brushing also helps to de-clog pores of harmful substances. This allows your skin to breathe better, and for your body to better absorb your natural moisturizer.
Brushing can help with stiff limbs (especially for those who get little exercise, and work in front of a computer). By increase blood flow and circulation, you will feel more energized.
Getting Started
The first step is to pick a good dry skin brush. You will be looking for a brush made of natural bristles (always choose natural over synthetic). Look for a brush with a long handle, to help you reach hard to reach areas such as your back. If possible, a brush with a removal head can also be useful.
You can purchase these brushes at a natural health food store, or even your local pharmacy.
Step by Step Instructions for Beautiful Skin:
Set aside 10 minutes in your day (either in the morning or evening) prior to showering
Your body should be dry (wet skin will not have the same effect because the skin will be stretched)
To brush the skin, use circular motions or long even strokes. The brush should pass once everywhere (except your face), concentrating on the areas where it is needed the most (e.g. cellulite – 10 minutes daily)
Start at the feet and up the legs, brushing towards your heart.
Brush over your abdomen, buttocks, back, and stomach (in an upwards direction)
Lightly brush more sensitive areas such as your breasts and avoid areas where the skin is broken or is irritated.
When you reach your arms, begin at your fingers and brush up each arm, again towards the heart.
Tip: For your shoulders and chest, brush downwards, always towards the heart.
Now you can enjoy a warm shower – remember that your pores are now open, so try and use natural products in the shower. Follow up with massaging pure oils into your skin, such as coconut oil, or shea butter, or a natural skin moisturizer. Perform this routine daily for approximately 3 months
There you go! Dry skin brushing is my secret to beautiful skin, even in the deep dark dreary winter!