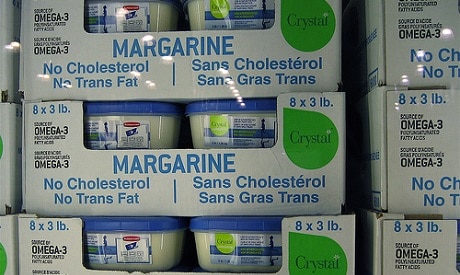 After more than a century of being on store shelves, this week the FDA proposed eliminating all added trans fats from food products in the U.S.
The New York Times reports that if the label of "generally recognized as safe" is removed from trans fats, food manufacturers will be required to scientifically prove that trans fats are safe if they want to use them in their products. This will be nearly impossible after more than a decade of research that continually shows that trans fats are a leading contributor to heart disease, and that there is really no safe level of consumption of them.
That's exactly why trans fats are on our Scary Seven list of ingredients.
Read more about preventing heart disease
Trans fat is created when liquid oil is combined with hydrogen gas to make it more solid, and it acts as a preservative as well as aiding in smoothing out the texture and taste of many processed foods. It's also a less expensive ingredient than butter and other oils that may be used in their place. However, according to the American Heart Association, research that began in the 1990s showed that trans fat plays a significant role in raising cholesterol levels and increasing rates of heart disease.
In 2006, the FDA required manufacturers to label the trans fat in their foods. These are commonly listed as "partially hydrogenated oils." As a result, the average daily consumption of trans fats in the U.S. dropped from 4.6 grams in 2006 to about 1 gram in 2012, and the Centers for Disease Control reports a decline of 58 percent for the blood levels of trans fatty acids in white adults between 2000 and 2009.
However, foods that contain less than 0.5 grams of trans fats per serving have been allowed to be labeled as free of trans fats. This is a problem because people could potentially consume a few grams of trans fats in a day, enough to pose health risks according to scientists, if they ate more than one serving of foods that were labeled as free of trans fats but were actually just within the 0.5 gram threshold.
Check out our video on trans fats and how they can be hiding in some of your favorite foods:
FDA commissioner, Dr. Margaret Hamburg, says that the elimination of trans fats could prevent 20,000 heart attacks and 7,000 deaths each year.Read more about reading labels
Naturally occurring trans fats will still be allowed in food, but this proposal would remove all artificial trans fats from store shelves which could have a significant impact on the overall health of the nation. The bottom line is that despite their effectiveness as an ingredient, they are harmful to the human body in even small quantities, and therefore, the FDA is making the right move in protecting the people by taking them off the shelves.
The FDA's proposal is open to public comment for 60 days before it will be finalized.
Photo: colros