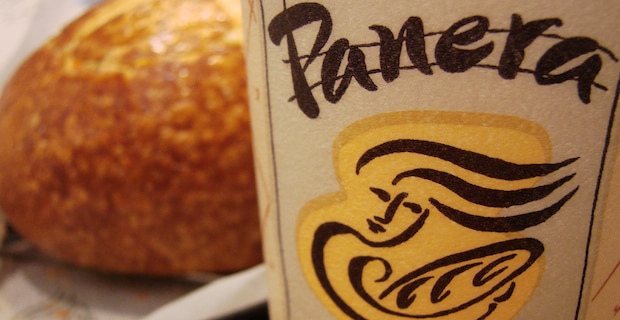 Chipotle isn't the only fast food restaurant making big moves towards healthier food options. Panera Bread has announced that it's moving away from more than 150 food additives on its menu. The chain will be removing controversial ingredients including artificial colors, artificial flavors, preservatives and monosodium glutamate.
"The No No List," as Panera refers to it, includes some 80 different additives that make up 150 ingredients on the chain's menu. And those items will be replaced with cleaner ingredients by the end of 2016, say representatives for the company.
Ahead of the 2016 change though, Panera says it will begin this week to sell salads with only "clean salad dressings," which are going to be free from artificial sweeteners, colors, flavors and preservatives. Other salad items, including croutons, tortilla strips, pepperoncini and bacon, will be transitioned along with the 2016 deadline for the "No No List."
"The moves are next-steps that follow an announcement Panera made less than a year ago to ultimately junk all artificial additives from its menu," reports USA Today.
Credit can go to the growing level of consumer concern over food additives, and outspoken activists such as the blogger Vani Hari, better known as "Food Babe," who has successfully led petitions against fast and processed food brands to urge them to make menu item changes. She was instrumental in Kraft's recent announcement that it would transition away from artificial colors in its iconic blue box macaroni and cheese product.
"This is like our own 'Good Housekeeping Seal of Approval' that says: This is a transparent list of ingredients you won't find at Panera," company CEO Ron Shaich said in a phone interview with USA Today. "This is truly the first, real salvo in the effort for food transparency."
According to Shaich, the process of changing a menu that includes 465 ingredients has been quite a task, "but I want to serve food that's clean," he said, "I want to serve food that I feel good about my daughters eating."
Read more about the worst ingredients in food
[Editor's Note: If you want to eliminate unhealthy ingredients and chemical additives from your diet for good, click here to sign up for a Naturally Savvy Get Healthy Challenge.]
Find Jill on Twitter and Instagram
Image: Samantha Celera