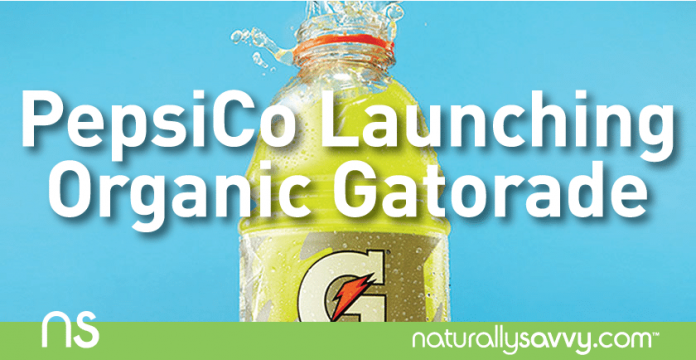 Expect to see organic Gatorade along with PepsiCo's Non-GMO certified Tropicana Juices in 2016. You can also expect to find healthier choices in some vending machines selling PepsiCo products as the company launched its "Hello Goodness" initiative mid-December, which offers vending machines with healthier versions of its products.
PepsiCo describes "Hello Goodness" as a "state-of-the-art food and beverage vending initiative."
The company will place several thousand units throughout the U.S. in 2016, including at certain healthcare, recreational, transportation, governmental, workplace and educational facilities. The "Hello Goodness" vending machines will feature a touch screen with production nutritional information and suggest food and beverage pairing ideas.
The vending machines will contain healthier versions of PepsiCo products such as Naked Juice, Smartfood Delight popcorn, Lay's Oven Baked potato chips, Quaker Real Medleys bars, Pure Leaf iced tea, Propel Electrolyte Water, Tropicana Pure Premium, and Sabra Ready-to-Eat Hummus cups.
There are market reasons for why PepsiCo is launching healthier choices. "It's a consumer interest," as Al Carey, the CEO of PepsiCo Americas Beverages said at Beverage Digest's Future Smarts conference in December, reports Business Insider. "I think they're very interested in non-GMO and organic, and to the degree you can make it meaningful to the consumer – do it."
Consumer demand for organics is increasing, growing by double-digits every year since the 1990s. Organic sales increased from $3.6 billion in 1997 to over $39 billion in 2014, according to the Organic Trade Association. Most Americans purchase organic food. In the third quarter of 2015, PepsiCo's organic revenue grew by 7.4 percent.
More and more consumers are cutting back on sugar. Euromonitor reports that when consumers are given a list of ingredients they look for on food and beverage labels, 42 percent said they look for limited or no added sugar.
A Forbes evaluation found that non-carbonated drinks such as Gatorade and Tropicana comprise over 20 percent of PepsiCo's evaluation and soft drinks less than 15 percent. Forbes expects Gatorade and other non-carbonated drinks to "maintain their market share of around 12 percent," and estimates that the global juice market will increase from 120 billion in 2015 to around $150 billion.
"Consumers want more choice when it comes to what they eat and drink on-the-go and we're providing the choices they want," said Kirk Tanner, chief operating officer, PepsiCo North America Beverages, in a statement. "We're continuing this journey with our new Hello Goodness vending initiative, which brings together the power of our brands and our expertise in design, category management and equipment innovation expertise."
[Editor's Note: If you want to eliminate unhealthy ingredients and chemical additives from your diet for good, click here to sign up for a Naturally Savvy Get Healthy Challenge.]