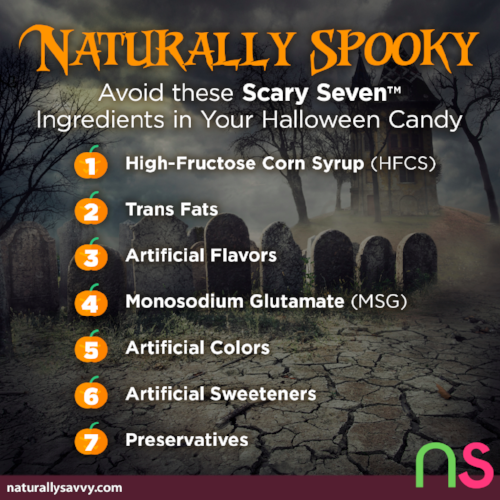 Halloween is fun and exciting for kids and adults alike, but the ingredients that sneak into most traditional Halloween treats might scare any parent. Luckily we've got you covered with our guide to keeping things Naturally Spooky as we prepare for the holiday.
You should keep an eye out for the Scary Seven™ all year long, but it's especially important at Halloween when even more candy makes its way into your home.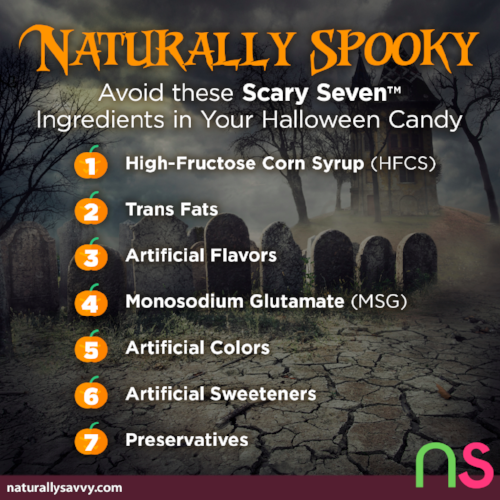 1. High Fructose Corn Syrup Those fun-size candy bars are a lot less fun when you know they're full of HFCS. Linked to diabetes, allergies, and cancer, it's best to avoid this sweetener. Try a trade-in system, offering your trick-or-treaters points for every mini chocolate bar and let them "buy" something they really want instead.
2. Trans Fats Even products labelled "zero trans fat" can contain up to 0.49 grams per serving thanks to an FDA loophole. Trans fat is linked to heart disease, inflammation, Alzheimer's, depression, and breast cancer.
3. Artificial Flavors Artificial flavors can cause a number of symptoms, such as allergies, chest pain, headaches/fatigue, depression, and even brain damage. Try to place a limit on how much candy your child can snack on while they're going door-to-door, and then you can negotiate the rest when they get home.
4. Monosodium Glutamate MSG is often found in salty or savory foods and can cause a wide variety of health issues. Have a stash of healthier swaps ready to go, and substitute parent-approved treats for anything they bring home that you're uncomfortable with them eating. 5. Artificial Colors Food coloring is made from petrochemicals-coal tar. Artificial dyes have a range of reactions, especially those linked to behaviour such as bedwetting, ADHD, frustration, hyperactivity, lack of concentration, temper tantrums, and even violent outburtst. Options like Surf Sweets let your family take part in the Halloween fun without you worrying about what they're eating.
6. Artificial Sweeteners Artificial Sweeteners like aspartame and sucralose can be found in everything from chewing gum to breakfast cereal. Keep small non-edible treats on hand like temporary tattoos, jewelry or accessories, coloring books, school supplies, or a fun craft to offer up instead.
7. Preservatives Research suggests these agents are carcinogenic, common allergens, and endocrine disruptors, and they're likely lurking in anything with a far-off expiration date. Get your kids involved in sorting through the candy, explaining things in age-appropriate terms so they can understand why the ingredients aren't good for them.