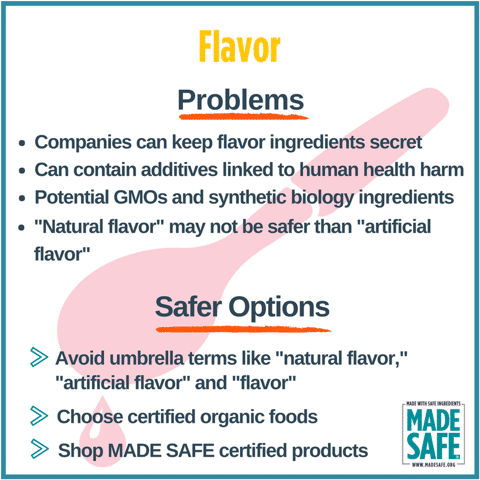 Made Safe has just released a new fact sheet and infographic on "flavor", that catch-all term that seems to appear on virtually every product label in grocery store aisles. We got the low-down from Made Safe on what that word actually means, and how we can make smarter shopping choices to protect our health.
What's Up With Flavor?
Flavor is similar to fragrance in that it's an umbrella term for lots of different ingredients that make up that particular flavor. While called merely "flavor", "natural flavor", or "artificial flavor", on the package, that flavor formulation often contains between 20-60 ingredients, but may contain more than 100. Flavoring is found in foods, sexual health products, and even some cosmetics and personal care items.
Natural flavors are foods that come from things found in nature, meaning they're chemicals isolated and purified from plants and animals. Artificial flavors are made of ingredients that appear chemically identical to naturally-occurring flavors, and can be combined with non-flavoring ingredients like emulsifiers, preservatives, and solvents.
Artificial flavor can contain synthetic ingredients – both synthetic flavoring agents and synthetic additives – whereas natural flavors can only contain synthetic additives like preservatives, emulsifiers, solvents, adjuvants, and incidental additives that are not required to be listed on labels. So both natural and artificial flavors may contain synthetic ingredients.
These two categories can appear identical in chemical structure. However, it's unknown if the body processes these two types of ingredients in the same way. The problem is that companies don't have to list all the ingredients in flavor in a given product. So it's hard to know what's safe and what's not.
For added context, FDA-approved additives include: ingredients harmful to human health and the environment, including lauric acid, mineral oil, nickel, acrylic acid resin, butylated hydroxytoluene, talc, polysorbates, and so much more. Some flavor ingredients are potential synthetic biology ingredients. Often called GMO 2.0, synthetic biology ingredients are genetically engineered in ways that extend beyond GMO.
How to Make Safer Choices:
Avoid umbrella terms like "natural flavor," "artificial flavor," and "flavor." Because companies don't have to list every ingredient on the label, it's impossible to know which ingredients are within the product.
Don't assume "natural flavors" are better than artificial flavors. Because natural flavors can contain synthetic additives and might require less safety testing than artificial flavoring, it is impossible to tell from a label if a natural flavor is actually completely derived from ingredients found in nature, and they might not be any safer.
Choose certified organic foods. Certified organic flavors must meet stricter standards; for example, they cannot contain synthetic ingredients and cannot be GMO.
Cutting out processed and packaged foods reduces your intake of flavor ingredients.
Shop MADE SAFE certified products to make sure the flavors in your products are safe.
Learn more about how flavors are formulated and regulated (or not) with Made Safe's new fact sheet and infographic on flavor.