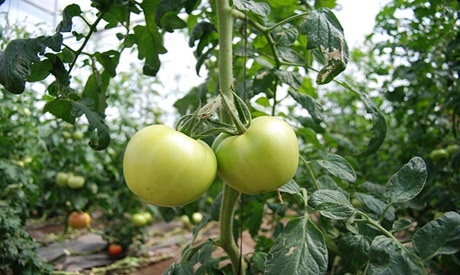 A new report claims that organic food does not have "any meaningful nutritional benefits or deficits." Conducted by the American Academy of Pediatrics (AAP), the report recommends that pediatricians take the findings of the report into account when giving nutritional advice to parents.
If pediatricians are only concerned with children getting enough vitamins and minerals, then the advice of the AAP may be (notice the emphasis) sound. However, there is much more to it than just nutritional advice. Conventional farming uses massive amounts of pesticides. Some produce is more prone to absorb pesticides. For instance, strawberries are extremely porous and absorb higher levels of pesticides than grapes do. Children who eat conventionally grown strawberries and other porous fruits and vegetables, wind up with higher levels of pesticide exposure. Therefore, pediatricians have the responsibility to point that out to parents.
The AAP report does highlight the fact that eating organically grown foods leads to less pesticide exposure. The study states that "organic diets have been convincingly demonstrated to expose consumers to fewer pesticides associated with human disease." The report also mentions that organic farming methods have been "demonstrated to have less environmental impact than conventional approaches." That should be a key consideration of pediatricians in regards to recommending an organic diet. After all, children in rural areas are exposed to pesticides on a regular basis. If more American farms adopted organic practices, fewer children and adults would be exposed to pesticides.
The AAP report itself says that to "demonstrate superiority of one food production method over another, it is important to show an advantage in terms of improved individual health or an important societal advantage." Organic food has a distinct "societal advantage." We are part of our environment, and what is put into the atmosphere lingers.
British study found nutritional advantages in organic milk
When it comes to organic milk versus conventional milk, the AAP report states that "there are few, if any, nutritional differences between organic and conventional milk… there is no evidence that any differences that may exist are clinically relevant." That stands in contrast to the findings of one of the studies of the EU-funded Quality Low Input Food project (QLIF). The QLIF project poured millions into studying the benefits of organic agricultural production from 2004 to 2009. The QLIF funded study conducted by Newcastle University found that grazing cows on organic farms in Britain produced milk with "significantly higher" beneficial fatty acids, antioxidants, and vitamins than conventional cows. The study was published in the Journal of Science of Food and Agriculture.
Gillian Butler, the livestock manager for the Nafferton Ecological Farming Group at Newcastle University, led the study. Butler points out that what the study shows is that, "letting cows graze naturally, using forage-based diet, is the most important reason for the differences in the composition between organic and conventional milk."
Photo credit: George M. Groutas