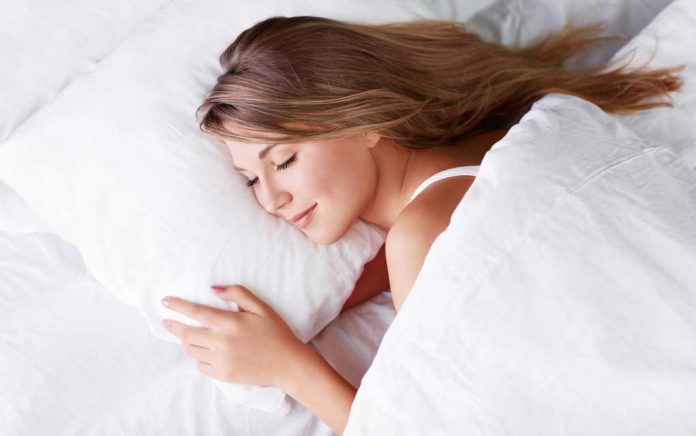 Essential oils, also known as aromatic oils, have been around for thousands of years. They provide various benefits for the body and mind through their use in everything from religious practices to medicinal healing. Essential oils are now widely popular as holistic alternatives for preventing and soothing bodily symptoms and ailments. But, can they really help with night sweats?
The Science Behind Why Night Sweats Happen
Before opting to use any essential oil it's important to know what you are looking to get out of it. To stop night sweats from happening we first need to understand what's causing them to occur, so we can treat the root cause of the problem.
Night sweats are defined as "episodes of nighttime sweating that soak your nightclothes or bedding". The main cause of this condition is hormonal changes due to menopause and perimenopause. These hormonal changes are a result of reduced estrogen production in the female body.
Find out about Essential Oils for Headaches
Finding The Right Essential Oils For You
Picking the right essential oils based off of the information above means choosing one that helps to improve the estrogen levels in the body. If night sweats are caused by lack of estrogen, putting more in the body will help to reduce the risk of having those night sweats.
In addition, combining essential oils that naturally provide a cooling relief to the body is ideal to help with night sweats that do occur. These essential oils come in a variety of different scents. I highly recommend trying out a few different estrogenic and cooling oils, so you can discover what scents you personally enjoy.
A short list of popular oils that contain estrogen include:
Cypress
Fennel
Anise
Clary Sage
Basil
Thyme
Sandalwood
A few examples of popular oils that provide cooling relief include:
Peppermint
Lemon
Wintergreen
Spearmint
Lavender
Eucalyptus
Basil
For 25 More Ways Essential Oils Will Make Your Life Better
When it comes to how to use these essential oils, there really is no wrong way. It depends on what you are most comfortable with doing. Keep in mind that you want a practice that fits within your daily schedule, so it becomes an instant habit before bed. Let's take a look at the options.
1. Body Moisturizer
This may be one of the most soothing ways to use your essential oils. Mix the oil of your choice with an unscented lotion, cream, or a carrier oil. For those unfamiliar with carrier oils, they are base oils that are used to enhance the spreading of the more powerful essential oils onto the skin. A good measure is to combine about five drops of your essential oil for every tablespoon of lotion or carrier oil.
2. Massaging
Similar to the body moisturizer above, use the essential oil of your choice and combine it with a carrier oil. This is perfect for a personal massage, or to have your partner massage on your skin prior to going to bed.
3. Aromatic Diffusion
Probably one of the more popular application methods, aromatic diffusion, is fairly simple for the novice to use. Electric diffusers are widely available online. It's recommended to keep your diffuser in the bedroom, so it can disperse the essential oil into the air while you are sleeping.
4. Bath Soak
Taking a soothing bath before bed can relax the body and is a great way for essential oils to penetrate the skin. Mixtures can be made with about five drops of your preferred essential oil and a base oil or even a half cup of milk. It's really up to your personal preference.
5. Room Spray
If you don't want to spend the money on a diffuser you can easily create your own room spray. A good rule of thumb is to add about 5 drops of an essential oil for every 1 ounce of water in the spray bottle. Spraying the oil mixture on your comforter and pillow cases can provide a soothing scent while falling asleep. However, be sure to test the mixture on a small portion of the material as different oils can stain.
In Conclusion
Night sweats can be extremely frustrating, but with the proper choice of natural essential oils, you can find some relief. With so many options and methods of application, I'm sure that every woman can find the ideal combination for her nighttime comfort.
[Editors Note: Goddess Garden has a line of Aromatherapy Essential Oils including all of the ones mentioned here and some blends.]
Bio: Founder of ThinkOily.com, Sally Wong, has been in the manual therapy business for 15 years. Originally from China, she was introduced to the healing properties of essential oils by her grandmother. A strong advocate of keeping a healthy body, she's a regular Tai Chi and Yoga participant.