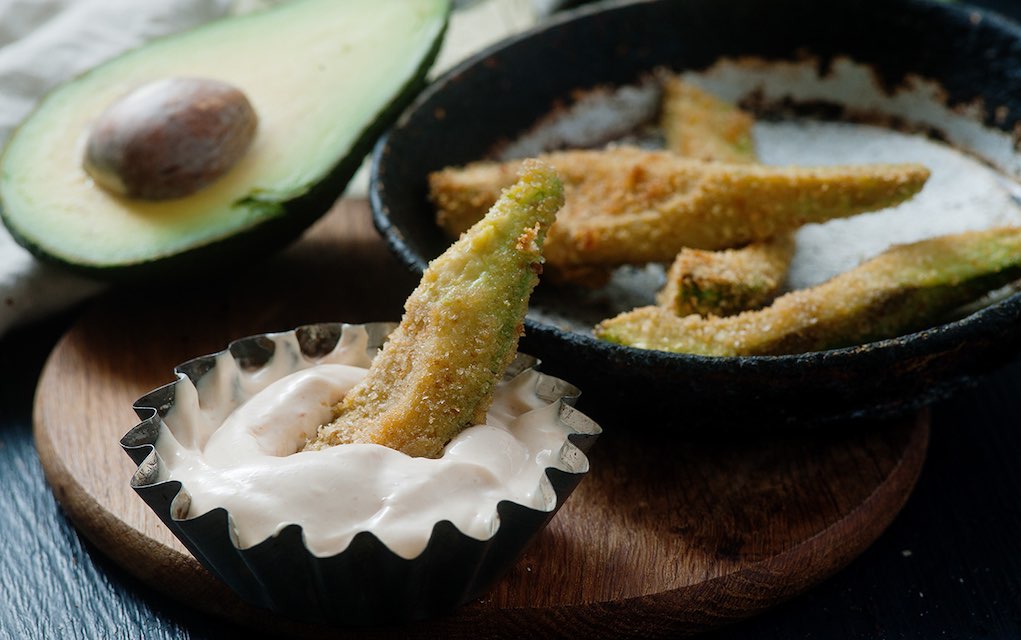 A common misconception with people on specific diets, whether it be vegan, keto, gluten-free, or paleo, is that they don't want to enjoy comfort food from time to time. Luckily, this easy recipe for keto-friendly avocado fries are here to serve up the perfect savory treat and alternative to regular french fries.
And while these fries are pretty high in fat, they're extremely low in carbs and completely keto-friendly.
More importantly though, they're really easy to make, and will win over any sceptic. Forget the low-carb aspect of them for one second, these are all about mouth-feel. They carry that unmistakable crunch of the real thing, making them feel just like regular french fries in the mouth, while being just as addictive.
These are made with almond meal and egg instead of vegetable oil and potatoes, which makes them great for keto diets.
The dipping sauce along with these is a spicy mayo concoction, made with sriracha and mayonnaise. I'm a hot sauce fanatic, and sriracha is definitely up there in my top three. If sriracha is a bit too sweet for you, or if you're worried about the sugar content in the sauce, then there are some great keto-friendly BBQ sauce recipes out there that can be put together really easily and quickly.
A few quick notes:
I'm British so have used 'almond flour'. However as far as I'm aware, almond meal is essentially the same thing. Just wanting to avoid any potential confusion there (my British-isms have landed me trouble before…)!
I've used cayenne pepper below, but if you're uneasy with cayenne or simply don't have any, then finely ground black pepper will do just fine.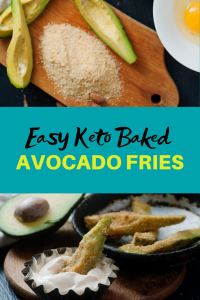 Prep Time 10 minutes
Cook Time 15 minutes
Yield: 24-30 avocado fries
Avocado Fries- Ingredients
For the fries:
3 avocados1 ½ cups almond flour/meal
1 egg
¼ tsp cayenne pepper
½ tsp salt
For the spicy mayo:
2 parts mayonnaise
1 part sriracha
Let's make this thing!
Preheat your oven to 450°F/230°C. In a small bowl, break and beat the egg well. In a separate bowl, combine the almond flour with the cayenne pepper and salt.
Halve, de-seed, and skin the avocados. Slice each half into 4 or 5 strips, depending on how thing you'd like each of your fries to be.
Once you have sliced all of the avocado halves into fries, coat one in beaten egg, and then follow that by rolling it in almond flour until it's thoroughly coated. Place to one side either on a plate or drying rack. Repeat for the remaining avocado fries.
By now your oven should be warmed up to our target temperature. Line a baking tray with parchment paper or aluminum foil, and add a little bit of oil on top. Assemble the fries on the paper or foil, and transfer the tray to the oven.
Bake for 15 minutes. Once done, remove the tray from the oven and transfer to your kitchen counter. Allow to cool for 2-3 minutes.
While they're cooling, mix together a 2:1 ratio of mayonnaise and sriracha (or your chosen hot/BBQ sauce).
Serve up and enjoy!
For more delicious keto-friendly recipes, be sure to subscribe to our newsletter: