The winter months bring us a mixed bag: lots of holiday parties, visits with friends and family, traveling near and far, hunkering down for the rest of the winter season, and … the yearly assault on our immune system from the common cold and flu. How do we merge these two realities together and stay healthy, strong, and supportive of our immune function? Two words: Colloidal silver.
Flu season has arrived
According to Dr. Anthony Fauci, director of the National Institute of Allergies and Infectious Diseases, the 2019-2020 flu season looks like it is going to be as severe as the 2017-2018 season, which had the distinction of being the deadliest in at least 10 years. The Centers for Disease Control and Prevention noted that at least 6.4 million people have been diagnosed with the flu as of the start of January 2020, and 55,000 people have been hospitalized.
The CDC also pointed out that the type of flu virus that is spreading right now isn't usually so active until early spring. This suggests the 2019-2020 flu season may last longer than it usually does.
How susceptible are you?
Because we lead busy lives, we often don't realize how vulnerable we are to environmental stressors that silently attack our microbiome and thus our immune system. We're exposed to multiple challenges every day: at the office, in school, on public transportation, in restaurants and pubs, in shopping malls and on the streets.
Adding even more to being exposed to cold and flu viruses are the stresses of everyday living: relationships with family and friends, traffic, financial worries, endless errands, and a lack of good nutrition and/or sleep. All of these conditions and events build up until we wake up one morning sniffling, aching, feverish, and coughing. We're not saying it's too late at that point to take care of yourself, but prevention is always preferable.
What you can do to minimize your chances of getting the flu
You may be familiar with the precautions that the CDC and other health organizations and clinicians recommend in preparation for the cold and flu season:
Wash your hands often and for at least 20 seconds with soap and water;

Keep your dirty hands away from your face;

Stay at least three feet away from anyone who is coughing or sneezing;

Trash your used tissues (don't put them in the shirt sleeve or pocket!);

Wear gloves when caring for anyone who is ill;

Don't share food, beverages, or utensils;

And be sure to get 7 to 8 hours of

sleep

every night.
However, there are other precautions you can take, and one of the best natural remedies is colloidal silver.

Why you need colloidal silver
Colloidal silver is a suspension of microscopic metallic particles of silver called colloids. Silver's been used for centuries for various health issues, and the colloidal form has been available for more than 100 years. Not all colloidal silver products are created equal, so it's important to know what to look for when buying it.
Many inferior colloidal silver products contain only about 10% of charged (positive) silver, which is the form that the body can use. Bio-Active Silver Hydrosol is a highly refined form of this natural remedy. It contains 98% positively charged silver ions and silver nanoclusters (extremely small particles), and this formulation makes it much more powerful than other forms.
During cold and flu season, some people take colloidal silver every day to help support their immune system. Bio-Active Silver Hydrosol is a form of colloidal silver that's safe to use daily for immune system support. A suggested maintenance dose is one teaspoon daily.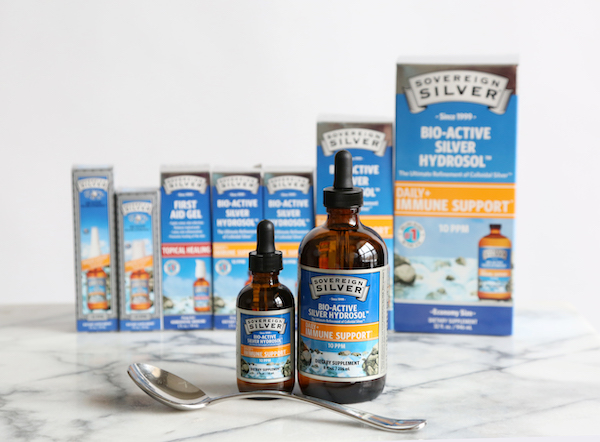 In addition to a maintenance dose, however, you and your family may need to consider taking colloidal silver more often. For example, multiple doses per day are suggested when:
The first symptoms or signs of cold, flu or other immune system challenges appear.

When kids go back to school.

When there is an illness going around the office or at school.

When traveling to new places and/or attending large public venues.

When using public facilities like bathrooms, gyms, swimming pools, or locker rooms.
Choosing colloidal silver products
When shopping for colloidal silver, look for those safe and suitable for daily use. The safest and most effective products contain a low concentration of silver 10ppm (parts per million) and only two ingredients; 99.999% pure silver and pharmaceutical-grade purified water- that's all. The colloidal silver liquid itself should be clear, in non-leaching glass bottles. Colloidal silver is tasteless and odorless and free of GMOs, gluten, and allergens-perfect for whole family protection.
Bottom line
Protect yourself and your family this cold and flu season. Follow the conventional safeguards and add the extra important step of taking colloidal silver every day to support and promote better immune system function. Silver's been used worldwide since the ancient civilizations of Rome, Greece, Egypt, Macedonia and Phoenicia realizing its powerful anti-microbial effects and today there's a resurgence around the world. Over 2,400 years of immune support can't be wrong!
[Editor's Note: We like Sovereign Silver brand and have been using their colloidal silver for years. Check out www.SovereignSilver.com to learn more.]

Read this next:
8 Immune System Boosting Foods
Sources
Carlisle M. 2019-2020 flu season on track to be especially severe, new CDC data suggests. Time 2020 Jan 4
Polish J. Flu season 2019-2020 updates suggest it might be longer than usual. Bustle 2019 Dec 13
Sign up for our newsletter for all our latest healthy tips: