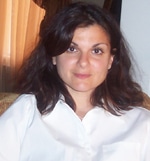 Joanne Capano is Naturally Savvy's Nutrition and Family Expert.
Joanne is a Registered Holistic Nutritionist. Her interest in nutrition and holistic health was ignited as a result of her desire to instil positive eating and lifestyle choices in her family.
As a mother of three active school-aged children, Joanne knows firsthand the challenges busy families face in choosing and preparing healthy meals. Her special interests are in promoting healthy traditional diets at home and helping families meet the changing nutritional needs of their growing children.
Joanne also holds a Bachelor of Arts degree in English Literature and a post graduate certificate diploma in Public Relations. She has worked in nonprofit and corporate PR for the past 15 years. Joanne believes the key to healthy living lies in natural nutrition and has taken a keen interest in wanting to raise public awareness of the benefits of natural living.
In addition to her freelance public relations writing and event planning services, Joanne has a nutrition consulting practice offering one-on-one consulting, group workshops and menu planning for families.
To reach Joanne, email her at: Joanne (at) naturallysavvy (dot) com.