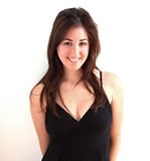 Melissa Maker is Naturally Savvy's Eco-Friendly Cleaning Expert.
Melissa is passionate about making living environments cleaner and greener. She has been featured in newspapers and televisions shows. Melissa has even been featured as an expert in eco-friendly cleaning tips and techniques in interviews and speaking engagements.
Melissa is the owner and operator of Clean My Space, which focuses on cleaning condo suites for busy urbanites. Melissa's clients and staff are encouraged to use green cleaning products and techniques whenever possible and she is always researching new products and techniques to share with readers.
to reach Melissa, email her at: Melissa(at)NaturallySavvy(dot)com.