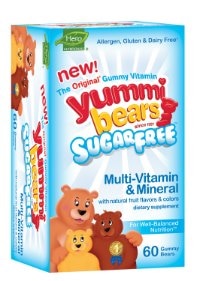 It can be hard getting your kids to take their vitamins. Most won't swallow pills, and the chewable variety that tastes yummy is so often loaded with sugar and artificial color. 
That is why we are SO excited about Hero Nutritionals' latest ground breaking product: gluten and sugar free Yummi Bears® gummy vitamins! These taste so good that my kids ask for them every morning before I have a chance to remember. 
Yummi Bears Sugar Free Gummy Multi-Vitamin & Mineral gives kids the full spectrum of 16 essential nutrients including vitamins A, C, D and E as well as B-complex. The sweet taste comes from natural fiber and lo han fruit – no artificial sweeteners are found here. 
You can feel safe giving your allergic or sensitive child these vitamins since they are allergen, gluten and dairy free and contain no artificial colors. 
The best part? Adults can take their vitamins this way too! Who says kids have all the fun? For adults, the new Slice of Life Sugar Free Gummy Multi-Vitamin provides a full-spectrum of essential vitamins and nutrients to meet the complex nutritional needs of adults. If you find it unpleasant to swallow tablets or capsules this is the perfect solution for you!
EDITORS NOTE: We have currently RUN OUT of free samples. Our apologies!